Nintendo released New Super Mario Bros. Wii in Japan last week, giving the console its biggest first-week software sales in the country to date, more than 950,000 copies sold, according to Media Create.
That puts it ahead of Super Smash Bros. Brawl, ahead of Mario Kart Wii, and ahead of everything else released in Japan this week. While two new PSP games—Phantasy Star Portable 2 and Mobile Suit Gundam: Gundam vs. Gundam Next Plus—scored second and third place with impressive numbers, their sales couldn't come close to the newest of New Super Mario Bros.
And speaking of New Super Mario Bros., the Nintendo DS original is still represented well on this week's chart, managing to score 24th place this week, many years after its initial debut.
As for the new games, Assassin's Creed II managed a top ten showing, as did PokePark for the Wii. In danger of slipping from Media Create's top thirty is poor old Dragon Quest IX. Hang in there, DQ!
G/O Media may get a commission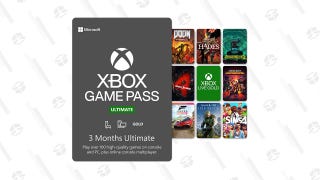 Save 11%
Xbox Game Pass Ultimate: 3-Month Membership
01. New Super Mario Bros. Wii (Wii) - 953,000 / NEW
02. Phantasy Star Portable 2 (PSP) - 287,000 / NEW
03. Mobile Suit Gundam: Gundam vs. Gundam Next Plus (PSP) - 223,000 / NEW
04. Sengoku Musou 3 (Wii) - 121,000 / NEW
05. Layton Kyouju to Majin no Fue (DS) - 85,000 / 392,000
06. Tomodachi Collection (DS) - 75,000 / 1,822,000
07. PokePark Wii: Pikachu no Daibouken (Wii) - 64,000 / NEW
08. Pokemon Heart Gold / Soul Silver (DS) - 63,000 / 3,153,000
09. Wii Fit Plus (Wii) - 52,000 / 1,044,000
10. Assassin's Creed II (PS3) - 49,000 / NEW
11. Tokimeki Memorial 4 (PSP)
12. Power Pro-Kun Pocket 12 (DS)
13. Inazuma Eleven 2: Fire / Blizzard (DS)
14. Metal Fight Beyblade: Bakutan Cyber Pegasus (DS)
15. Kamen Rider: Climax Heroes W (Wii)
16. Assassin's Creed II (Xbox 360)
17. Momotarou Dentetsu 2010 Senkoku Ishin no Hero Daisyuugou ! No Ken (Wii)
18. Wii Sports Resort (Wii)
19. Stitch! Ohana to Rhythm de Daibouken (DS)
20. Taiko no Tatsujin Wii Dodoon to 2 Yome! (Wii)
21. Mario & Sonic at the Olympic Winter Games (DS)
22. World Soccer Winning Eleven 2010 (PS3)
23. Kaiju Busters (DS)
24. New Super Mario Bros. (DS)
25. Mario & Sonic at the Olympic Winter Games (Wii)
26. J-League Pro Soccer Club o Tsukurou! 6: Pride of J (PSP)
27. Mario Kart Wii (Wii)
28. Tamagotchi no Narikiri Channeru (DS)
29. Monster Hunter Portable 2nd G (The Best) (PSP)
30. Dragon Quest IX (DS)