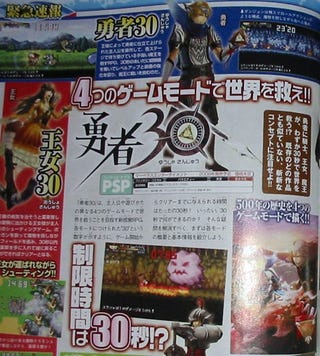 Upcoming Yuusha 30 (Brave 30) has players save the world in four different game modes — 30 seconds at a time.
Each mode has its own main character and gameplay mode: A brave warrior in a side-scrolling action game, princess in a shooting game, a demon king in a strategy game and a knight in an action game.
There's a countdown clock in the middle top of the game that ticks off 30 seconds players have to finish each mini-game in these four modes.
Marvelous To Announce Creative RPG "Yuusha 30″ For PSP [PSPHyper via PSP Fanboy]