The chart-topping game on popular Flash gaming site Newgrounds this morning was, not surprisingly, a video game involving Osama Bin Laden.
The user-submitted game, called Mujahedin (play it here), lets players control a suicide bomber, recruited by the now-deceased founder of terrorist group Al Qaeda to attack a U.S. Army base. The player can "praise Allah" or "play with the trigger", getting themselves shot or blown up in the process. They can also succeed in the attack, after which they are praised by Bin Laden. The game appears to be a satire, making jokes about Bin Laden's commitment to Islam and the idea that Islamic fundamentalist terrorists believe their suicide attacks would merit them the company of virgins in the afterlife.
The game launched today at 5:18 am ET, six hour after President Barack Obama announced Bin Laden's death. Users have already checked out the game more than 600 times. Mujahedin's creator, someone going by the name GrogyLobster, says it's all a coincidence. He or she wrote:
"WTF?! I SPENT THE LAST FEW WEEKS TO CREATE THIS PIECE OF GARBAGE AND NOW ONE OF ITS MAIN PROTAGONISTS IS SIMPLY DEAD? THANK YOU USA, YOU SCREWED ME OVER!!!"
Player reaction is mixed. One gamers wrote: "So simple yet so funny game! This motivates me to create spam! Thanks!"
But another slammed the game, writing, in part: "this is racist to the core because you messed up real big mujahid does not mean terrorist. osama is a person that made us all look like terrorist for no fucking reason i hate him and this game because you didn't even try to look that up you JUST watched the news and osama said he a mujahid and now mujahid is a terrorist?? get your facts right damn it , mujahid was what the muslims called their soldiers and if you even bothered to check you'll see that he's not fighting for islam he's fighting of pure hatred because he's a terrorist "
G/O Media may get a commission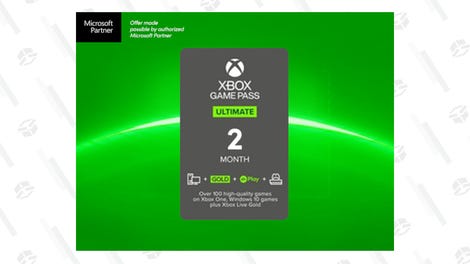 70% Off
Xbox Game Pass Ultimate Two-Month Subscription
While the game was topping the charts this morning, it's recently been passed by Seabed Bubble 3, the kind of simple, fun game more common on Newgrounds. Both games, however, have been leapfrogged in the number one spot by a crude cartoon submitted by another Newgrounds user. Its title: "Osama is dead."