The Wii version of the next Astro Boy game showed up in New York a couple of weeks ago. As of July, we can cover it. Click the thumbnails. Look at the screens. Read my notes. All at once.
(Really, click to expand. I'm trying something new here by doing a preview as a series of captions.)
The next Astro Boy game, developed by High Voltage and published by DS, is coming to the Wii (the version I saw), the PS2, PSP and DS in October timed to the release of the Japanse icon's new computer-animated movie...

...Astro Boy hasn't starred in many video games, for a variety of reasons pondered by our own AJ Glasser in May. But he did star in one cult classic, the Treasure-developed Game Boy Advance game Astro Boy: Omega Factor....

G/O Media may get a commission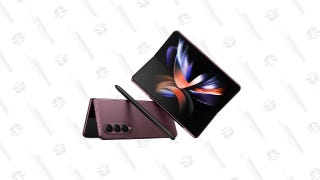 Save Up to $300
Galaxy Z Fold4
The Treasure game inspired the developers of the new Astro Boy, a D3 producer told me as he played the new game. But this is not intended to be a sequel or a successor. It's its own thing....

The first screens you see here are from the game's side-scrolling shoot-em-up levels, which involve Treasure-style 3D scrolling backgrounds set behind the shooting action. The shooting gameplay, while true to the GBA Astro Boy's style didn't look to me half as frantic as Omega Factor's graphics-slowdown-causing mayhem,,,

In the new game, Astro Boy has his standard finger laser, butt machine guns, drill attack, arm cannon and an energy-absorption move,,,

On the Wii, the game was played with remote and nunchuck, with all the moves defaulting to sticks and buttons. Triggering moves with shakes of the remote are optional...

The game is based on the events of the upcoming movie. The development studio works with the movie studio, Imagi, for approvals. They're not dealing directly with the estate of Astro Boy creator Osamu Tezuka...

I took the controls of the game briefly. Astro Boy has a great arsenal for a video game character. His array of moves offers a nice variety of attacks, from strong rightward energy blasts, to the more all-enemy-damaging butt-gun attacks. All of that was great in Omega Factor and is at least good here...

The straight-forward platforming and flying levels of the new title don't yet have the dynamism of Omega Factor, but there's plenty of time for the development team to improve and polish. The foundation here is solid.

I did not see the other versions of the game. Just the Wii. For more on the Astro Boy movie the game is based on, check out the official site. Looks like a lot of fun.