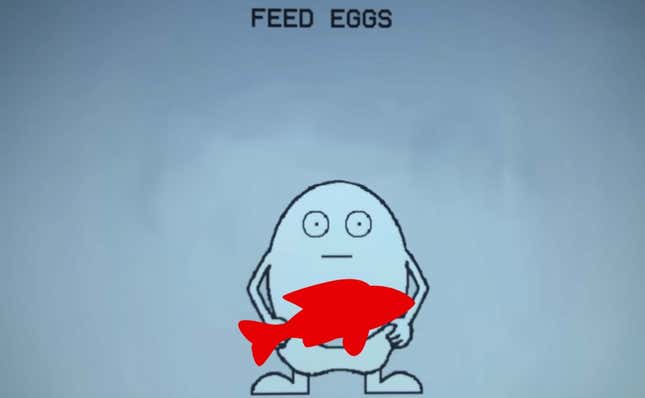 Netflix's sketch comedy show I Think You Should Leave premiered its third season at the end of May, and while the series is highly successful in creating ear-worm quotables—"That's a Chunky" and "Now I'm sick off of your mud pie" come to mind—the egg game from the second episode has captured the internet's attention for its increasing absurdity. So much so that a fan of Tim Robinson's series brought that fictional game to life.

Netflix's One Piece Live-Action Trailer Has A Treasure Trove Of Anime Easter Eggs
The game, titled in the show "Eggman Game," appears in a two-minute-long sketch in season three's second episode, "I Can Do Whatever I Want." In the sketch, Robinson, playing an office worker named Marcus, is clicking away on his mouse at his desk. The camera pans over to show the egg game, which sees Marcus deposit smaller eggs into the gaping esophagus of a larger egg. Cannibalism much? As he drags-and-drops, the game shouts that the big egg has only received six of the 25 or so eggs Marcus claims to have given it. This goes on for a while, as Marcus is berated by what appears to be his boss and a coworker, only for the game to finally make some semblance of progress. And by progress, I mean dropping its drawers to flash and moon Marcus.
"Porn? That's a nude egg I won from my game," Marcus says when his coworkers question what's really going on behind his computer screen. "I'm not in trouble at all. Now, we should be able to look at a little porn at work."

Well, this not-really-porn egg game is a real thing you can play in your browser right now. Created by Twitter user Matthew Barton and his friend after binging season three of I Think You Should Leave, the game plays just as it does in the show. You'll feed the big egg a bunch of small eggs until you, for some inexplicable reason, run out of white oval balls, at which point the game will ask if you'd like to buy an 80-pack of eggs. I typed "no" after depositing just nine eggs into the Eggman's mouth, but I still ended up with 80 more eggs. And without even doing anything or clicking around on screen, I somehow managed to feed it over 960 eggs. Weird. But the best part here is the donation button at the top, which asks if you'd like to give money to I Think You Should Leave actor Garry Crotty (aka Biff Wiff, who's currently battling a recurring cancer) or the Ruth Ellis Center, a non-profit dedicated to helping at-risk queer folks. Good causes.
"It's amazing that articles are being written," Barton said in response to GameSpot's write-up. "This project is important due to the donation links. They are both unbelievably good causes, and we want as much traffic as we can get in order to make people smile, but also give to those who need it."
In Twitter DMs with Kotaku, Barton said he was hooked on I Think You Should Leave after his best friend showed him the first episode. He explained that it took about a day for him and his friend to create the game.
"The easiest part was creating the assets, honestly," Barton said. "The show had so many clear looks at the game that I was able to quickly replicate what I was seeing on the screen. As far as the most difficult part, that was definitely the coding on Drew's end. He's an absolute wizard when it comes to that stuff, and whenever he encountered a roadblock, he was able to find a way to get around it and make the game even better."
Although Barton's intention was to simply "make people laugh," he also wanted to use the newfound attention he received from the game's creation to bring awareness to causes important to him.
"We first chose the donation link for the Ruth Ellis Center because we wanted to have the donations go to a cause that was important to us, hence the LGBTQ+ community," Barton said. "We specifically chose the Ruth Ellis Center because it is located in Detroit, which is where Tim Robinson is from. When we found out about the Biff Wiff donation page on GoFundMe, we knew we had to include it."
It's cool seeing fandoms take their love of the fictional and make it real. It's even better when that passion is harnessed into helping folks in need, particularly at a time when queer people are being threatened by legislation and society.
Update, 06/06/23 4 p.m. ET: Updated this story to include comments from the game's co-creator Matthew Barton.