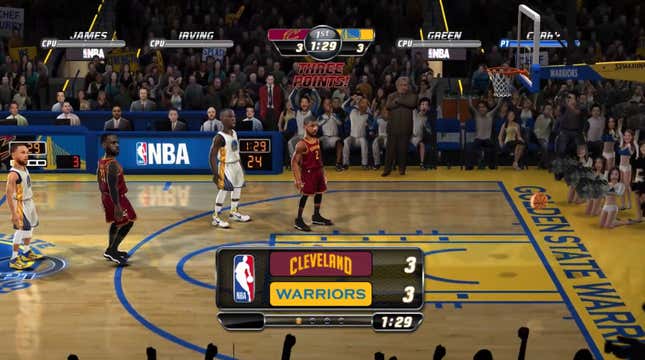 Dedicated fans are out there uploading new rosters for old sports games all the time, but this new update for 2010's NBA Jam goes above and beyond by adding so much new stuff that it's practically an all-new game.

This Arcade-y Basketball Game Brings The NBA Jam Vibes
The 2010 edition of NBA Jam had polygonal player models, updated visuals and played smooth as hell, and in 2011 it got an updated release with NBA Jam: On Fire Edition, which had HD graphics and an expanded roster. It's this latter version that the mod we're talking about today is built on.
NBA JAM: Legends On Fire Edition, which is out now, completely transforms the 2011 release by bringing in new rosters, new uniforms, new player heads, new team logos, new arenas, new sneakers, authentic accessories (players will be wearing compression and shooting sleeves in the game if they wear them in real life) and even new arena backgrounds. There's also a new campaign, with the original's "road trip" edited, and then joined by historical scenarios you can relive (in a 2v2 setting).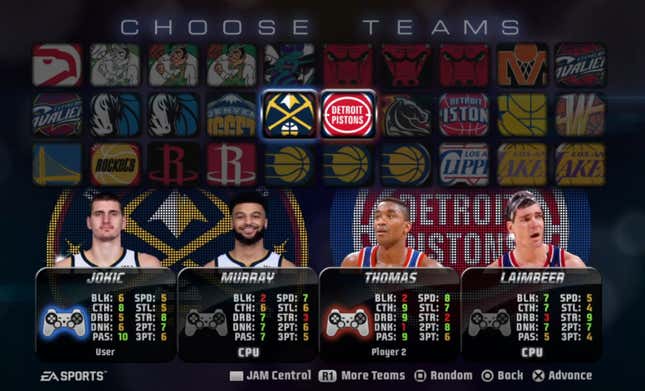 The new roster is, as the name suggests, a mix of current players and the superstars of yesteryear. There are, for example, four Lakers teams: an 80s squad where you can flip between Kareem, Magic, James Worthy and Vlade Divac, an early 00's Shaq and Kobe duo, a late 00's Kobe and Pau Gasol team and a 2020's option featuring Lebron and Anthony Davis. And the three Bulls squads are Jordan and Pippen from the late 80's, Jordan and Pippen from the 90's then Derrick Rose and Joakim Noah

I love this. I love everything about it. The new stuff is blended so seamlessly with the original content that, like I've said, this feels more like NBA Jam 2023 than someone tinkering with a 13 year-old game. Which is as much a compliment to Legends On Fire's creator as it is the developers of the 2010 game themselves, who it turns out have very quietly made one of the most timeless sports video games ever released.

NBA JAM: Legends On Fire Edition was made using the PS3 version of the original, so to play it you'll either need to emulate it or play on a jailbroken PlayStation 3. You can download it here.