2K Sports takes advantage of today's download friendly consoles, giving fans an early taste of this year's basketball with NBA 2K10: Draft Combine.
Available in September on Xbox Live Arcade and the PlayStation Network, the NBA 2K10: Draft Combine is a downloadable game that allows players to fully customize their own player and put them through their paces at the NBA Draft Combine at the world-renowned, ATTACK Athletics gym in Chicago. The release gives fans a month to get their custom player up to speed for play in the big game. Check out the list of features to see how much 2K Sports is packing into this little gem.
NBA 2K10: Draft Combine features:
Building custom players by working with a mentor, the 2K Insider, and increasing their NBA stock through a variety of challenging basketball drills and 5-on-5 games.

Over 300 different signature customizations, including player-specific shooting animations, dunk and dribble packages and more to allow each created player to have his own unique personal style.

Ability to strengthen all parts of the created player's game with a variety of drills, such as shooting, post offense and defense, attacking the basket, dribbling, challenging shots, boxing out for rebounds and more to progress through the NBA Draft Combine.

Organized games that will allow players to gain valuable skill points and offer a variety of specific in-game objectives that will need to be accomplished in order to gain them. At the end of each game, a full analysis will be available for gamers to review their player's performance and strategize their further improvement.

All players created in NBA 2K10: Draft Combine will wear a special patch on their uniform throughout the rest of that player's career to denote that they have completed the NBA Draft Combine.

Online leaderboards to track the highest ranking custom built players, and where a player stacks up against the competition.

Opportunity to unlock special achievements on Xbox 360 and trophies for PLAYSTATION 3 system.

Fans can take their custom built players from NBA 2K10: Draft Combine and use them in the all-new My Player career mode in NBA 2K10 launching this fall, allowing them to continue their journey of becoming an NBA legend.
Of course all of that goodness isn't free, but it really isn't all that pricey either, running 400 Microsoft points or $5, depending on your console. Not too shabby for a chance at getting a leg up on the competition before the October launch of NBA 2K10, right?
G/O Media may get a commission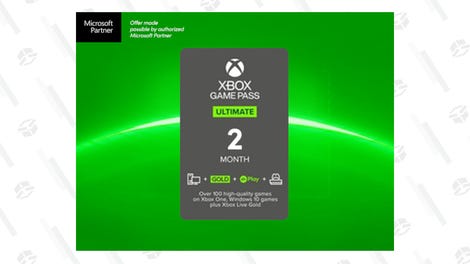 70% Off
Xbox Game Pass Ultimate Two-Month Subscription