EA has announced a February release date for NASCAR Kart Racing for the Nintendo Wii, the game that finally adds the two elements keeping the sport from greatness - jumps and falling boulders.
Shipping to retailers on February 10th, just in time for the 2009 season, NASCAR Kart Racing lets players choose from 14 big-headed renditions of their favorite NASCAR drivers or one of 10 original animated characters, racing around treacherous tracks the likes of which we'll never see in the real sport. At first I was a bit concerned that EA felt that Wii owners couldn't handle a more realistic NASCAR experience, but then I realized that this game sounded a great deal more fun.
With 24 wacky tracks, four actual NASCAR tracks, and four-player split-screen multiplayer, NASCAR Kart Racing sounds like a lovely alternative to watching cars drive in circles for hours at a time.
EA Announces NASCAR Kart Racing – the First and Only NASCAR Title Available for the Wii
Experience the Thrill of Team Racing on and off the Track
REDWOOD CITY, Calif.—(BUSINESS WIRE)—Electronic Arts Inc. (NASDAQ:ERTS) announced today that NASCAR® Kart Racing, the first and only NASCAR racing title available for the Wii™, will ship to retailers in North America on February 10, 2009, just in time for the Daytona 500 and the official start of the 2009 NASCAR season. Designed exclusively for the Wii, NASCAR Kart Racing enables players to grab the steering wheel as a famed NASCAR Sprint Cup Series driver and speed through treacherous landscapes, wind around rocky cliffs, jump rivers and dodge falling boulders. Up to four players can go head-to-head, via split screen, in a mad dash to the checkered flag, making NASCAR Kart Racing an ideal game to play with family and friends.
G/O Media may get a commission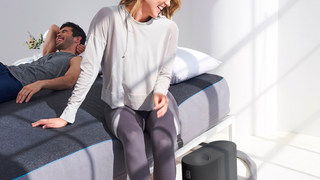 Eight Sleep Pod Cover
Enjoy the thrill of racing as three-time consecutive Sprint Cup Series champion Jimmie Johnson or choose from 13 additional NASCAR Sprint Cup Series drivers. Players can also compete as one of 10 original animated characters. Each driver has personal attributes that will determine how the kart will perform on a course, so strategy is key when choosing a driver and a teammate. Teams that work together win championships!
Licensed NASCAR Drivers:
Jeff Burton
Kyle Busch
Dale Earnhardt, Jr.
Carl Edwards
Jeff Gordon
Denny Hamlin
Kevin Harvick
Jimmie Johnson
Kasey Kahne
Matt Kenseth
Elliot Sadler
Tony Stewart
*Two Unlockable Mystery Drivers*
The courses in NASCAR Kart Racing feature a vast range of exhilarating terrain. Experience 24 entertaining race layouts that wrap through deserts, freeways, back roads, canyons, junkyards and more. Drivers will also push the pedal to the metal in areas surrounding four popular NASCAR tracks: Daytona International Speedway, Talladega Superspeedway, Dover International Speedway and Bristol Motor Speedway. Each track in NASCAR Kart Racing can be reversed to provide two unique racing experiences.
Your journey to become a champion in NASCAR Kart Racing begins by competing in 13 series against featured drivers from different racing backgrounds. Defeat the rivals of each series to unlock new courses, drivers, game modes and the next series. Beat all of the events at a track and you will receive a track sponsorship complete with billboards featuring your driver's face—an obvious statement to your family and friends that you are the top competitor. Race throughout the series, to earn the championship title that affords stunning trophies and the glory of being recognized as the ultimate NASCAR driver!
NASCAR Kart Racing, developed exclusively for the Wii™, will ship to retailers on February 10, 2009. The game has been rated E for Everyone by the ESRB with a descriptor for "Cartoon Mischief". For more information, please visit www.easports.com/kartracing. For assets, please visit www.info.ea.com.
EA SPORTS™ is the leading interactive sports software brand in the world, with top-selling titles and franchises including Madden NFL Football, FIFA Soccer, NHL® hockey, NBA LIVE basketball, NCAA® Football, Tiger Woods PGA TOUR® and NASCAR® racing.