For the past few weeks, I've been playing a very different kind of RPG. There aren't any Paladins, or orcs, or castles, or magic, or even potions. There are just ten sweaty men doing battle in an arena. It's one of the best RPGs I've ever played.
The Week In Games: Fishing For Mysteries And Gang Wars
The game I'm talking about is NBA2K15, which you may argue is not an RPG. And if all you're going to do is play against other people, or shoot around with an existing team, it's not! It's a sports game, and a pretty good one at that.
But if you fire up the game's MyCareer mode, it's no longer just a sports game. It's role-playing in the very strictest sense of the term, only instead of unleashing special attacks, you're dunking on people. This is exactly what I want from an RPG these days.
I got playing NBA2K15 so late in the season (it was released back in October) for two reasons: one, I've been getting back into watching the NBA after a decade or so away from the league, and two, I'd been told by someone I trust that it basically answered the prayers I was throwing up in this post from 2014.
G/O Media may get a commission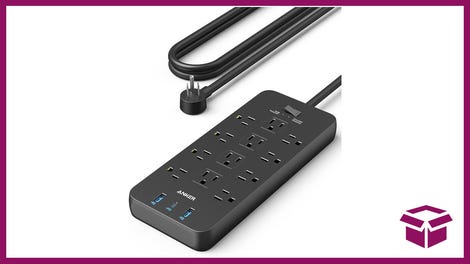 28% Off
Anker Power Strip Surge Protector
They were right.
My problem with so many RPGs these days is that I'm suffering from "universe fatigue." For a genre that's supposed to let you assume the role of anyone, anywhere, the fact RPGs generally limit you to a European Fantasy world, deep space, or a dystopian future bums me out. I know, there are differences to be had within those contexts (Dragon Age is not Skyrim), but when placed alongside the entire spectrum of human achievement, history and imagination, it's still a depressingly limited selection of worlds to inhabit.
It's why I like the Yakuza series. Why I'm looking forward to Kingdom Come. These games offer a different kind of RPG experience, one where I'm not going to be running into goblins in every forest, a world where I can heal myself with Japanese soda instead of magic potions.
It's the same deal with NBA2K15's MyCareer mode, in which you assume the role of a single NBA player and guide him through an entire career, from fighting through training camp to earning a spot in the starting lineup to, all things going to plan, becoming one of the all-time greats.
You do all the requisite RPG things: you pick a name, you agonise over building a face, choose a position (i.e. class), a team (i.e. faction) and then go into combat. The more you play (i.e. fight), and the more you win (i.e. complete quests), the more gold you'll earn (NBA2K15 actually gives you gold coins) which you can then use to improve your statistics.
Other sports games do something similar, from Madden to FIFA, but they're always lacking a human touch. Your progress through their versions of MyCareer are dry, abstract affairs, lacking in any real sense of progression or communication from the game as to what you're doing right (or wrong).
What makes NBA2K15's take so endearing is that it goes all in on the presentation. Really, it's 110%. You're not just playing as a random scrub player, you're taking on the role of a character, one whose chosen nickname is shouted by commentators, and who more importantly appears in endless cutscenes, some of which are just there to increase the immersion, others which feature BioWare-style dialogue options that can affect your relationship with teammates and your bosses.
Here, let me show you what I'm talking about.
Here's my guy. World, meet DeMarcus Covington, a name that means "I literally combined the names of two existing NBA players so the commentator would say my name" in Australian.
This being an RPG, I made him a Wizard. With a beard.
But I'm getting ahead of myself. This RPG has an intro, which sets the scene: you are an asshole basketball player with an even bigger asshole of an agent. Draft day has come and gone and you didn't get picked. Your agent promises to get you a trial with a team, and so it's off to training camp in an attempt to get noticed.
You get noticed. Even playing terribly, I got noticed. I'd like to think it was because of my skills, but it may have just been my fabulous hair.
So it's off to the NBA! Or, the NBA's bench, since as an undrafted rookie you're only playing around 6 minutes a game. Enough time to screw up a few passes, not enough time to make amends and actually do anything useful. This is NBA2K15's "kill rats in the sewer" phase.
Tolerate the grind, however, and soon enough you'll have earned a contract from another of the game's assholes, your team's General Manager. With a guaranteed season in the NBA ahead of you, and a range of new options and features at your disposal, this is the game's "leave the opening city and head into the wilderness for the first time" phase.
This screen greets you at the end of every game. It's NBA2K15's "party status" menu, keeping you up to date on your progress, only it also has a fake Twitter feed.
If you thought the fact the NBA has uniforms means you can't customise your character, nope. You can customise your character and then some. Look at that zebra shirt!
Keep playing well and winning and soon enough your agent introduces you to other NBA players. This is DeMarcus meeting Australia's own Dante Exum, and within five seconds all three men are being assholes to each other. People being assholes is a running theme in NBA2k15.
This is me/DeMarcus after being promoted to the Wizards' starting lineup. I'm suspecting the game is secretly levelling up my slouch as I improve my shooting and passing.
A promotion to the starting lineup is not without its perks. This lady, for instance, wants to know what music I'd like played when I run into the court. A Tribe Called Quest will do nicely, thank you.
As a growing star in the NBA, I'm now also attending press conferences. And, based on this pose, I am attending as a human vessel to The Great Architect, who speaks through me to His human dominion.
Here is a gameplay screen, since all I've been showing you so far are cutscenes and menus. Just to remind you that there's stuff to play here, not just watch.
Soon enough, your stats are buffed enough and you're familiar enough with the controls that you're winning "Player of the Game" awards. In which you're treated to a sweet cinematic highlight reel of your most badass moves from the game. This is the "slow-mo Fallout headshot" ego-boosting part of the game.
Note my new haircut. I didn't have to pay for this, or re-roll anything. I could change it in the middle of the game for free, which was nice.
You might scoff that, because it's a sports game so long as you're on the court, not an RPG. That's crap! Skyrim is an RPG, and Final Fantasy is an RPG, and their "action" sequences couldn't be more different. What you do in a role-playing game doesn't define it, RPGs are about building, assuming a role and controlling a character's destiny.
Yes, I like basketball, so I've found actually playing the basketball parts of this game enjoyable. I'd imagine that, conversely, for a lot of people that would be a problem. But I think if you like RPGs, and would like to try something other than swinging a sword, this game is worth a loo.k (Note that gameplay can be simplified and toned down to the point where even newcomers are running around like Hall of Famers within a few minutes!)
There's enough dialogue, customisation, feedback, and "story" here to make this an RPG worth sinking some time into.Though sitting at the bottom of the Eastern Conference, these Wizards don't seem very magical...