There's a slight golden hue to the laptop.

Plenty of room here for stickers.

Look how big this thing is.

That keyboard is massive though.

I was shocked at how thing the laptop was when I first opened it up.

Here are two of your three speakers.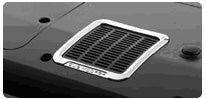 Surprise, a subwoofer is found on the bottom of the laptop.