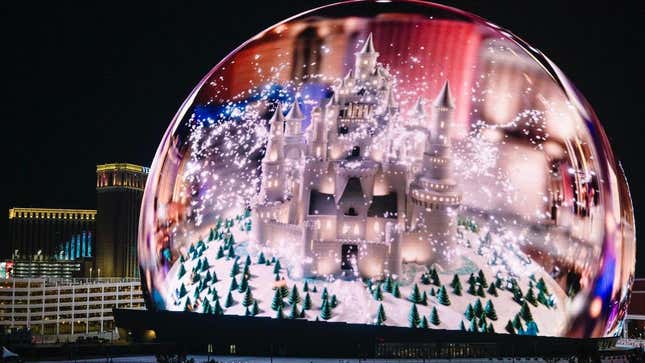 The $2 billion The Sphere Las Vegas is an immersive performance venue with 17,385-seats, 168,000 speakers, and U2 tour tickets currently on sale. The 160,000 square foot LED screen that makes up its domed exoskeleton is capable of projecting eyeballs, Earth, and portals to nowhere, so it also looks like a great place to battle demons in a video game.
Baldur's Gate 3's Karlach Actor On Playing The Beloved Barbarian
The Sphere, which sits near the Las Vegas Strip at The Venetian Resort, utilizes "360 audio environments" and 4D effects like fog, "super-heated steam and compressed air" to transmit smells, and wind that can achieve 140 mph blasts. What a relaxing environment to, say, play a round of Blitzball in Final Fantasy X, or to inflict intercosmic hell in Destiny 2. I bet both of those things would require 45 mph wind gusts and smell like Cheetos.
When looking at the colossal blob that is The Sphere Las Vegas, other gamers saw a potential gasping Pac-Man, a Star Wars Death Star, and ample space to advertise Disney's 2003 massively multiplayer online role-playing game Toontown Online's instructions for healing (finally). With help from The Sphere, Las Vegas could discover that, to speedily replenish health, all you have to do is "play with your Doodle."
I personally think it looks like Elden Ring's aggressive Silver Sphere enemies, or the orange Bloodborne moon that descends along with its (at one point) secret final boss, the Moon Presence. The Sphere could also easily pass for Nintendo's Kirby after he sucks air into his belly and turns into a flesh-pink balloon, or for one of Soulcalibur fortune teller Viola's crystal ball weapons. It also looks like a huge waste of $2 billion.
What do you think it looks like?