Monday marks the beginning of Apple's 2013 Worldwide Developer Conference, where the tech giant is expected to reveal some of the enhancements coming to the next iteration of iOS. What if one of those enhancements is support for external gamepads for its iDevices? Indeed, what if Apple, on the eve of the biggest game industry event of the year, revealed its own game controller? Sources suggest it's not as crazy as it sounds.
We've been hearing rumors of an Apple-developed game controller for the iPhone and iPad for as long as the devices have had games, but the company has traditionally been quick to shoot them down. Steve Jobs believed in the design of the iPhone and its offshoots, and a core feature of that design is the touchscreen. Creating an additional accessory to control the action might suggest the touchscreen wasn't adequately handling its function. Jobs would have never allowed that. Under Jobs, Apple would never create an external gamepad. Then again, under Jobs the iPhone screen would never have changed its size and shape, and the iPad Mini wouldn't have happened.
Apple hasn't been too keen on the idea of letting a third party handle controller duties either. While a handful of such devices exist — the iCade or SteelSeries Free, for instance — they are forced to work through trickery, reporting to iOS as a Bluetooth keyboard.
G/O Media may get a commission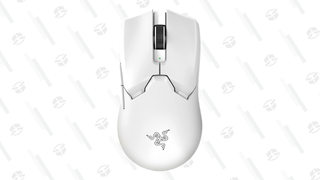 15% Off
Razer Viper V2 HyperSpeed Wireless Gaming Mouse
Pro gaming
ses a focus pro 30k optical sensor for unreal accuracy, is only 59g which puts little-to-no pressure on your wrists and allows for faster response times and longer sessions, has switches that last for 90 million clicks, has an absurdly fast wireless connection, and a battery life of up to 80 hours.
The strict policy has crippled accessory vendors hoping to bring controllers to iOS devices. Android devices, on the other hand, have support for Bluetooth controllers built-in, and a wide variety of devices to choose from. The problem Android is experiencing — one of the main reasons controller support isn't more widespread across the platform — is that there is no unifying standard across devices.
Apple has a unifying standard. It has millions of devices on the market that are either identical or so closely related that implementing a controller standard would be as simple as applying an update to an operating system and releasing a device. In one fell swoop, Apple could solve an issue that its core competition in the mobile market — one that's eating more and more market share every day — might never get quite right.
And, on the day before the official start of E3 2014 — a day when video games are on everyone's mind — they could upstage everybody. Apple's a big fan of that sort of thing.
The timing isn't just right from a hardware standpoint. Look at the games that have come to iOS recently or are coming in the near future. Star Wars: Knights of the Old Republic. XCOM: Enemy Unknown. The recently-announced Deus Ex: the Fall. These are games screaming for controller support. Imagine running an AV cable from your iPad to your television or hooking up to Apple TV through AirPlay and playing a brand-new installment of the Deus Ex franchise.
Rumblings of an Apple-crafted game pad have been growing stronger over the past few months, particularly after suggestions that Apple held secret meetings during GDC 2013 to discuss exactly that. And while the company responsible for the Bladepad third-party iPhone controller have claimed responsibility for starting that particular rumor, sources we've spoken to in iOS development strongly suggest there's an element of truth there, and that Monday is the day Apple's gamepad will be revealed.
I can definitely see it happening. Or perhaps Apple will finally put apps on Apple TV, and there'll be a dedicated controller for that device, transforming it into a Ouya-like game console (can you imagine?). I'm convinced that a dedicated iOS game controller isn't a matter of if, but rather of when — and Monday would be the perfect day for it.
To contact the author of this post, write to fahey@kotaku.com or find him on Twitter at @bunnyspatial.