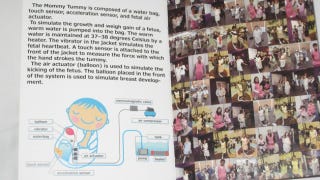 Pregnancy: The Game - 1UP's Matt Leone got pregnant for Tokyo Game Show. Talk about commitment.
Traditionally one of the busiest times of the year for major game releases, this fall game makers seem to be focusing on an increasingly loud mantra: More »
---
A little bit of Lumines influence, a touch of Super Puzzle Fighter II Turbo design and an audiovisual presentation thick with '80s nostalgia make Radballs stand out from the iPhone and iPad puzzle game crowd.
Glow Play's Radballs for iOS may rest somewhat uncomfortably on its totally rad... More »
---
The Tokyo Game Show smashed all (TGS) records again this year, bringing a whopping 222,600 people to the massive convention center to play games, dress up and check out the PS Vita. More »
---
It doesn't matter if you're a starship captain or one of Earth's mightiest heroes; once you go massively multiplayer it's only a matter of time before free-to-play finds you. More »
---
Surely commenter Daemon_Gildas isn't the only one that wasn't completely in love with The Legend of Zelda: Twilight Princess. It's time to step forward and be heard in today's Speak Up on Kotaku. More »
---
Sony is sandwiching Uncharted 3's November 1 release between a brand-new novel and a six-issue comic book series, delving deeper into Drake's fiction than ever before. More »
---
Right now, 17,889 people are playing Gears of War 3's campaign on an online-connected Xbox 360, according to the in-game stats we're looking at with our advance copy of the game. More »
---
The Angry Birds Asian Challenge will have gamers competing in the popular casual game aboard a Finnair flight from Finland to Singapore later this week, the airliner said today.
An Angry Birds non-alcoholic beverage and fried eggs will be served at the Helsinki Airport press conference to kick off... More »
---
We already knew you could turn on mature language and gore filters for Gears of War 3, but here's a look at how that language censor works in action.
Be warned, if you want to experience the Xbox 360 shooter completely free of lightly spoiling dialog, you might want to give this short video a... More »
---
The culmination of the Cataclysm saga, World of Warcraft's epic patch 4.3, now subtitled Dragon Soul, brings about an end to the tyranny of Deathwing, but more importantly an end of casual players not being able to experience raid content. More »
---
You don't need controllers to use Microsoft's Xbox 360 Kinect. That's the point of the thing. You don't need a controller. You certainly don't need an inflatable boat. More »
---
YouTube user obiwan222222, the king of making Wii games run on other devices, shows us how to play Super Mario Galaxy 2 on the Android-powered Asus Transformer tablet using a bit of software trickery and a wireless Xbox 360 controller. More »
---
I should have been playing more Gears of War 3 Friday night. I had an early copy. But I tried Driver: San Francisco.
I should have been playing Gears of War 3 most of Saturday afternoon, but I felt the irrepressible urge to do something else: More »
---
Microsoft has been saying for months, for years, that they're in talks with folks at cable companies about using the Xbox 360 as a cable box, but Digiday reports today that the company is close to signing deals with Comcast and Verizon.
Citing multiple sources, digital media site Digiday reports... More »
---
Our retrospective letter series concludes with part four.
An index of all letters can be found here.
-
From: Kirk Hamilton
To: Leigh Alexander
Subject: Augmented Reality
Leigh,
Hello! More »
---
One PlayStation 3 title just did some serious business in Japan. Tales of Xillia, the latest in Namco's long-running Tales of series, has already moved a half-million overseas. More »
---
We like tips!
Got tips for our editors? Want to show the world your latest creation? Ready to anonymously share an unannounced game? Email us at tips@kotaku.com. Or leave us an anonymous voicemail at (612) 568-2581.
Want a different layout?
Click here for the Speak Up or Tips forums. Want a more "blog-like" look? Click the button up top next to "Top Stories."
Get more Kotaku!
Want even more Kotaku? Want to know which of your friends read us? "Like" us on Facebook and follow us on Twitter.