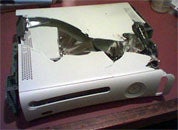 The mother of a Michigan teen who went missing for three days visited Good Morning America today, saying her daughter was "lured" to Puerto Rico by a 26-year-old man she met on Xbox Live.
"He would play a game and just come into the room," said Stacey Rieberger. "If you have a Live account, then anybody in the world can come in and play with you. That's how she met him."
Sixteen-year-old Jasmine Rieberger was detained in Puerto Rico along with the as-yet unidentified 26-year-old man. According to an "I have not been kidnapped" note she left her parents, she was going to Puerto Rico to pursue her dream of being a boxer. Jasmine destroyed her 360 and her computer before she left.
What grinds my gears about this story (aside from the mom's misapprehensions about the way Xbox Live works), is how hard ABC seems to be pushing the 360 angle. I give them a little credit for putting a caption below the video that reads"Jasmine Rieberger ran away after meeting a man on the Internet." But I'm docking points for that "Is Xbox To Blame?" subtitle that runs with the video segment.
Oh, and she smashed her 360 - that annoys me too. Couldn't she have just taken it with her? Honestly, those things don't grow on trees.
Check it out the media coverage for yourself:
Family Tracked Runaway Daughter, 16, to Puerto Rico by Phone Records [ABC]
Mom: Runaway Mich. teen met man through Xbox chat [M LIve]