Modern Warfare usually is discussed as a major franchise for the Xbox 360 and PS3 and is subject for debate on the PC. By at least one measure, it's significant on the Wii too.
Those who follow our monthly tally of Wii playing time (the so-called "measure of pleasure," as I've dubbed it) know that the average amount of time that Wii gamers spend playing 2008 Call of Duty: World At War is sky-high. At last count, gamers were averaging more than 51 hours with the game, which has sold more than a million copies, according to reporting I've done in the past. Only three games boast more hours per player: The similarly multiplayer-centric Super Smash Bros. Brawl and Guitar Hero III along with Animal Crossing: City Folk, a game designed to be played daily.
I was interested in seeing how this past November's Call of Duty: Modern Warfare: Reflex Edition, a remake of 2007's Call of Duty: Modern Warfare would fare. I'll get to sales figures a little lower, but let's look at something impressive first: its average playing time per player. As of December 1, the game had an average playing time of 17 hours, 22 minutes. As of January 1, that average is up to 24 hours, 55 minutes. People who play this game are keeping at it, likely due to its online play.
There's a caveat to the rising numbers for Call of Duty on the Wii. Because I'm only tracking average playing times, a game that is owned by five people who each play the game for 50 hours, will have an average playing time that exceeds a game that a million people have bought and played for 10 hours each. There's also the issue that these average playing times are tallied by the Nintendo Channel, a Nintendo service that only pulls the data of Wii gamers who download the channel, opt-in for data-sharing and re-visit the channel.
G/O Media may get a commission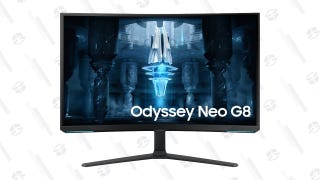 Samsung 32" Odyssey Neo G8 Curved Gaming Monitor
There's a way to account for those caveats, to at least have some context. As of January 1, the Reflex Edition was listed as having a cumulative 237,615 hours of play time among people sharing their data with Nintendo. World At War, as of December 1, had more than 7 million hours logged by users sharing their data. Compare those totals to The Legend of Zelda: The Twilight Princess, which has 45 million hours tallied as of Jan. 1, and it's obvious that not that many Reflex Edition players are out there and/or sharing their data... yet.
A better comparison for the Reflex Edition might be New Super Mario Bros. Wii, which was also released in November. That game has an average playing time of 15 hours, far fewer hours than that of the Reflex Edition but more than 1.5 million hours of that Mario game have been played and logged by the Nintendo Channel, dwarfing those 237,615 hours for the Reflex Edition. On the other hand, we've got September 2009's WWE Smackdown Vs. Raw 2010 which has a wonderful average playing time of 27 hours and 28 minutes, but across just a cumulative 90,066 hours played.
There's no starker contrast than with sales, of course. Nintendo announced today that New Super Mario Bros. sold three million copies in the U.S. through December. The NPD sales-tracking group, which has not released sales for December yet, told me today that, in its first month of release, Call of Duty: Modern Warfare: Reflex Edition sold 81,000 copies.
These Nintendo stats that we track measure the passion players have for the games they have, if not the popularity. Sales aren't the only stats that are interesting to look at.
Call of Duty games may not be the immediate blockbuster launches that they are on other platforms, but the playing time patterns here suggest that those who do have the game are as into the series as the most fervent fans on other platforms. World At War proved that on Wii. Reflex Edition seems set to do the same.