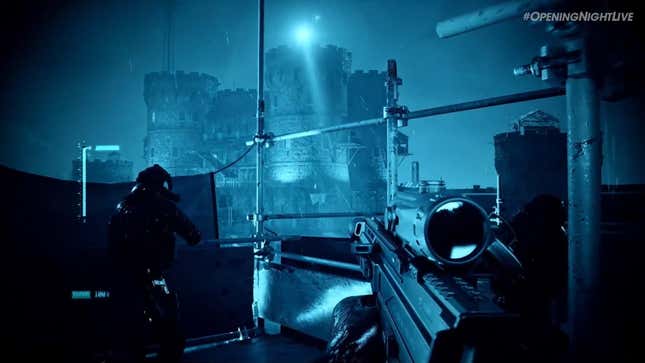 We got a lengthy look at a campaign mission from the upcoming Modern Warfare III during Gamescom 2023's opening night, and once again it appears that Sledgehammer Games, Infinity Ward, and Activision are banking hard on Call of Duty fans' nostalgia.
The mission, called "Operation 627," sees your merry band of military murderers leaving through a submarine's hatch and emerging into dark, cloudy ocean waters. They swim to the surface, upon which it's revealed that they're approaching a seaside prison. As they make their way inside, it quickly becomes apparent that this is the same Gulag from the original Warzone map, Verdansk.
Read More: Modern Warfare III Reverses One Of Call Of Duty's Most Controversial Changes
But that's not the only nod to older Call of Duty content: "The Gulag" is the name of a mission in the original Modern Warfare 2 (not the one that came out in 2022, but the one from 2009). During that mission, you are sent to rescue Prisoner 627 (who it turns out, is Captain Price) from a Russian prison, where he's being held captive. Price doesn't appear in the mission shown during the Gamescom trailer, so it's likely that he'll be captured again in this updated version of the Modern Warfare 2 mission. The showers from that 2009 campaign map were inspiration for Warzone's first map, Verdansk, so everything is really coming full circle in the Call of Duty world.
Modern Warfare III will also bring back every multiplayer map from 2009's Modern Warfare 2, so there is a ton of crossover going on here. Yes, I am also confused why all of the MW2 nods are happening in Modern Warfare III and not the Modern Warfare II that came out last year. Call of Duty is confusing, who'd have thought?