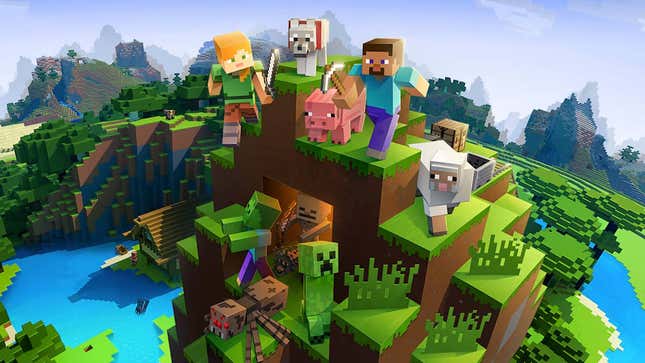 This weekend, the U.S. military was faced with a massive document leak that could have a significant impact on the war in Ukraine, and officials say that it's one of the "most damaging in decades." The leaks originated from a small Discord server, and then spread to a popular Minecraft one.

The Top Ten Most Played Games On Steam Deck: April 2023 Edition
The Wall Street Journal reported that "hundreds" of these files were originally uploaded on a small Discord server with mostly American users. These sensitive documents were reuploaded to a larger community. In March, they were spread to a Minecraft Discord server. From there, they spread to popular but chaotic imageboard 4chan, Twitter, and messaging app Telegram. The Department of Defense started investigating once a Russian propaganda account posted edited versions of these documents to the social media platform Telegram. Fifty of the leaked files were classified as "Secret" or "Top Secret."
These leaks contained information about the types of weapons being used by Ukrainian forces and the U.S., details on Ukrainian air defense systems and offensive capabilities, battlefield fatality statistics, and communication about U.S. military allies. It seemed that these documents were posted onto the Minecraft server during an argument about Minecraft maps and the war in Ukraine.
The leaker's account and all their messages related to the leak have been deleted from the server at the time of writing, so there's a lot of context missing. But from what remains of the conversation, Kotaku can confirm that the map-showcase channel was talking about the war in Ukraine. Someone appeared to become upset about jokes on the Russian invasion, and it seemed that the leaker had posted the files to prove that the war was real. "Here, have some leaked documents," responded the leaker before uploading photographs of classified documents, some of which have been viewed by Kotaku. A couple of server members reacted positively, and then the conversations after that were entirely about Minecraft. Apparently, these Minecraft fans can't identify a federal crime if it took place in front of them. "This shit was sitting in a Minecraft Discord server for a month and no one noticed," an investigative reporter told CNN.
Mykhailo Podolyak, an advisor to the Ukrainian president, believed that the leaks did not originate from Russia. "If you have a working channel for receiving intelligence from the Pentagon, you will not destroy it for a one-day information drive," he wrote on Telegram, noting that an actual intelligence agent would pretend that they did not have the information. He speculated that the pro-Russia account had publicized the leaks to distract and divide Ukraine's allies.
A former FBI executive told the Wall Street Journal that he believed the agency will investigate the leak as a "treasonous" act. Many spooked Discord members are leaving the compromised servers or deleting their accounts. "I left that server and I really hope that I am safe," one server member reportedly wrote on Friday, according to one of the leakers on the Minecraft server.
Discord is currently cooperating with law enforcement to investigate the breach. "It is Discord's highest priority to ensure a safe experience for our users. When we are made aware of content that violates our policies, our Safety team investigates and takes the appropriate action, including banning users, shutting down servers, and engaging with law enforcement," a spokesperson for Discord wrote to Kotaku in an email. "Our dedicated Safety team uses a mix of proactive and reactive tools to keep activity that violates our policies off the service, including advanced technology like machine learning models, equipping and empowering community moderators to uphold our policies and Community Guidelines, and providing in-service reporting mechanisms. Our team also proactively takes additional measures based on wider platform trends or intelligence they receive." According to a screenshot posted into the Minecraft Earth Map server, Discord urged the administrators to remove content that "promoted illegal activities."
This is not the first time that sensitive military information has leaked within a gaming community. War Thunder, an MMO dedicated to military vehicles, has seen instances where players have leaked weapon schematics to win internet arguments no fewer than four separate times. Gamers, please stop leaking classified military documents on gaming platforms.