Last night, Mojang, the studio that created Minecraft, hosted a big shindig at the Game Developers Conference, dubbed ".party()". There were flashing lights, a Skrillex set, and according to rumors, paid companions in the V.I.P. room. Rumors that Minecraft's creator Markus Persson says just aren't true.
As noted by Misguided@NeoGAF, people—game industry people—are saying that the Minecraft party's V.I.P. section made them uncomfortable.
"I guess I'll be the one to say it: I was not okay with the gender situation in the VIP area at the Minecraft party," Bennett Foddy, the developer behind QWOP, wrote on Twitter.
Thing is, Foddy wasn't the only one to say it. Other developers and industry types did, too. Here's a round-up via Twitter:
"It would appear that the @mojang @notch party at GDC had women paid to be there to socialise with the largely male audience. That's horrid."
G/O Media may get a commission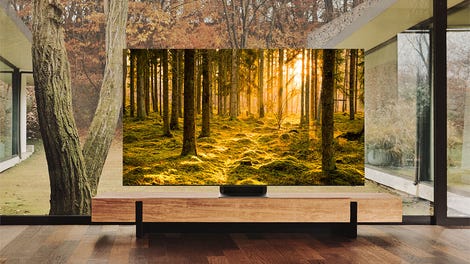 Up to 40% off
Samsung Smart TVs
Nick Robinson (Freelancer/Revision3)
"wandering through the backstage of .party(), i accidentally stumbled onto the room full of women who were paid to be there. fucking surreal"
Infinite Ammo (Alec Holowka's creative arm)
"Party with women who are paid to speak to you = creepy Left after about 10 minutes Overheard that these women were paid $300/hr."
Terry Cavanagh (Super Hexagon)
"But yeah the girls who were paid up be here to party with us was seriously fucking creepy, stop doing that pls"
Smudged Cat Games (Infinite Doodle)
"Yeah, I spoke to someone who was 'paid to party', as she put it. Didn't seem that interested in game dev. Good rack though!"
These claims, however, are being rejected. Via Twitter, Mojang founder Markus Persson denied that women were paid, writing, "We did not pay anyone to party at the .party()."
When asked why there were paid-to-party claims, Persson told Kotaku via Twitter, "I have no idea. Nothing like that happened."
Kyle McCarty, the event's organizer who says he oversaw "every process of the event", also denied that women were paid to attend the event, stating that these claims were "simply not true" and "100 percent" false.
"The point is not a single person was paid to be there partying," McCarthy added, "or mingling, etc."
These allegations come as members of the International Game Developers Association resigned after another party earlier this week during which scantily-clad women reportedly made some attendees feel uncomfortable.
Update: Alex May has said that he was not at the party.
(Top photo: RichIGN)