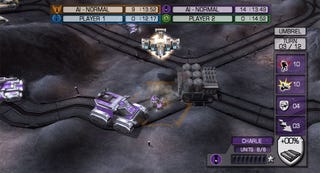 When the PlayStation Network version of Military Madness: Nectaris was announced, there wasn't much meat to that announcement. Today's update on the turn-based strategy game corrects that, overpowering us with details, including multiplayer info(!).
Turns out the PSN version of Military Madness: Nectaris's single player game is largely a remake of the TurboGrafx-16 original, now twenty years old, just with an updated audio-visual presentation. That's cool. No point in fixing what ain't broke. But the multiplayer sounds awesome.
Military Madness fans will probably be ecstatic to learn of the wealth of online options, including support for up to four players, 10 custom maps and a host of upgrades. Goodbye, free time!
Turn-based multiplayer sessions are always a little sketchy, so we'll have to see how it all shakes down at launch. Read more at the official PlayStation.blog to see why you should be interested in Military Madness: Nectaris.
Military Madness: Nectaris Coming to PSN [PlayStation.blog]