Over the weekend, we were treated to a UFC event light on pretense and heavy on action. The best fought the best, or at least the best available. Hardly anybody beefed. Demetrious "Mighty Mouse" Johnson fought a perfect fight. Refreshing as the event was, however, it felt like an island surrounded by bullshit-strewn waters.

I haven't written about MMA in a bit. Reason being, the UFC's early-year dry spell transformed into a full-on drought, and it's been a while since I've felt compelled to say much beyond, "That sure was a fight" and "Hell yeah, Derrick Lewis." But at the end of UFC on Fox 24 (UFC events are ostensibly named by the same person who comes up with Kingdom Hearts titles), I came away thinking, "That actually mattered." And not just because Demetrious "Mighty Mouse" Johnson made actual history, becoming the first fighter to ever tie Anderson Silva's record of ten consecutive title defenses.
For brevity's sake, I'm gonna focus on the last three fights on the card. First, we had relentless submission machine Ronaldo "Jacare" Souza vs Robert "Jackhammer Hands" Whittaker. Before the fight, Jacare, having dismantled a who's-who of UFC middleweights, was in a place where he really could've just sat on the sidelines and waited for a title shot to come to him, but he decided he wanted to stay busy. Whittaker wasn't being positioned as a sacrificial lamb, exactly, but most people figured Jacare would tear off one of Whittaker's arms, beat him to death with it, and then autograph the arm and hurl it into the crowd.
Instead, Whittaker took Jacare apart, surgically dissecting him on the feet and spending just enough time on the ground to take away Jacare's safety net. Jacare never looked lost or like he was incapable of snatching victory from the jaws of defeat, but it was clear that momentum was on Whittaker's side. He ended the fight with a sneaky head-kick and follow-up punches, sending the middleweight heir apparent tumbling back down the ladder. Don't get me wrong: I love Jacare, but seeing a young fighter like Whittaker put his whole game together and smartly dispatch one of the sport's most consistent killers is a heck of a treat. It was a rare "young gun beats aging vet" moment that didn't leave me feeling gross afterward. Jacare's not done yet. He looked like a world-beater in other recent fights. He just met somebody who'll probably end up champion at some point, a kid who saw an opportunity to prove that and pushed himself from "good" to "great," or perhaps even "downright scary."
G/O Media may get a commission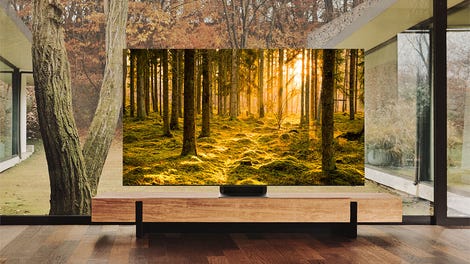 Up to 40% off
Samsung Smart TVs
After that, Rose Namajunas, a strawweight whose entire fight career has pretty much occurred with UFC cameras on her, took on a woman who made her name before the UFC's strawweight division even existed in Michelle "The Karate Hottie" Waterson. Despite veteran status, however, Waterson is still pretty young and has plenty of fight left in her. Namajunas, on the other hand, has repeatedly fallen just short of greatness, losing an early career title fight because she was just too raw and dropping a recent fight to recent title challenger Karolina Kowalkiewicz because she just couldn't quite find her rhythm. People started to worry that maybe Namajunas was a habitual choker, that she could compete with the best, but would forever fall short because she couldn't keep her head on straight in the cage.
This time, though, a focused, magnificently slick Namajunas showed up. She gamely navigated Waterson's labyrinth of rangy strikes and locked in an absolutely brutal rear-naked choke on the ground. Waterson struggled valiantly to muscle her way out of it, but had to tap when she started to turn colors that don't technically exist on the visible light spectrum. Much like Whittaker in the previous fight, Namajunas had her breakthrough moment. To hear UFC president Dana White tell it, her next fight will be a title shot.
The best performance of the night, though, undoubtedly belonged to flyweight champion Demetrious "Mighty Mouse" Johnson, who looked almost entirely untouchable against a very talented grappler in Wilson Reis. Words don't really do the fight justice. Mighty Mouse's preposterous speed was on full display, and he took angle after angle every time Reis tried to engage, to the point that Reis stopped fully throwing his punches because, fuck it, it's not like they were gonna land anyway. At times, Mighty Mouse ended up behind Reis, such was the speed disparity between them. By the third round, a visibly busted-up Reis got taken down by a Mighty Mouse who looked like he just woke up from a perfect Sunday afternoon nap. Once derided for not finishing fights, Mighty Mouse quickly worked to full mount and rained down punches and elbows until Reis haphazardly tossed up an arm. Mighty Mouse locked in an arm bar, and that was that. Reis, the feared ground fighter, tapped, and Mighty Mouse beat yet another challenger at their own game while hardly breaking a sweat.
It was a sublime performance, one of the finest I've ever seen. Mighty Mouse might not be the number one best striker, wrestler, or grappler ever, but he's second-to-none in the way he puts it all together. His transitions are a thing of obscene beauty. There are no seams. He just flows. Bruce Lee once said to be as water. Mighty Mouse is a tidal wave, and no matter how hard his opponents fight, they all drown in the end.
In a post-fight speech just as rapid fire as the fight itself, Mighty Mouse—typically a humble dude, or at least measured in his self-aggrandization—declared himself the GOAT. "GSP and Anderson Silva were great champions, but I'm the best to ever step foot in this Octagon," he said.
It was an amazing moment, history in the making. Silva was a godly striker in his prime, and GSP could blast people's torsos off their legs with his takedowns, but neither exemplified the sport of MMA the way Mighty Mouse does. In my mind, that makes him the best ever. No question.
UFC on Fox 24 (lol) was filled with good, consequential fights and, for the most part, what happened in the octagon stayed in the octagon. It was an event centered around an incredible champ cementing his legacy and hard-working contenders finally breaking through. It felt like a blast from the past in that respect, a card from a time before money fights and spectacle were the main order of the day, as opposed to a relative (but fun) rarity. That's not to say it's an intrinsically bad thing that the UFC is moving in a more entertainment-focused direction. It's just nice to occasionally see a card that's purely about sport.
And yet, this was still very much a "UFC in the year 2017" event. Case in point: Robert Whittaker ain't getting a title shot any time soon, deserving though he might be. Middleweight, undoubtedly one of the UFC's deepest divisions right now, has been transformed into a staging ground for circus fights. First, miracle champ Michael Bisping battled Dan "A Fossilized Slab Of Beef Jerky" Henderson to a predictable decision, and now he's set to tango with a fresh-out-of-retirement George St-Pierre, despite the fact that GSP 1) is old, and 2) has never fought at middleweight. So while Whittaker picked up a huge win on Saturday, he's stuck waiting and will probably have to fight Yoel "Literally The Incredible Hulk" Romero before getting a title shot. Right now, everyone in the middleweight top five is treading water, all for the sake of one "fun" fight. It's a weird, frustrating logjam that makes multiple fights feel like they don't matter. And sure, I imagine GSP-Bisping will be a fun fight that does decent numbers, but when the dust finally settles, will it have been worth it?
Then there's the continually depressing matter of Mighty Mouse, a once-in-a-lifetime champ the UFC's never been able to figure out. And sure, we can run down a checklist of hypothetical reasons for that—he's too dominant, he's too respectful, he's too smol, etc—but that's mostly horseshit. Mighty Mouse is a character. He's managed to attract a big audience to his Twitch video game streams, and yet the UFC only just figured out that they could use that to promote him. That's nuts to me. Twitch is one of the things young people watch now. You want to attract new people to the sport of MMA? Look no further.
Much has been written this year about the UFC's dearth of star power. Ronda Rousey seems to have flown the coop for good, and Conor McGregor is off chasing Floyd Mayweather around the world on a magic carpet made of cash. The two golden children are gone. What's the UFC to do? How can a massive corporation with a multi-million dollar marketing budget possibly recover?
In my eyes, though, the real issue is that the UFC only knows how to promote a few types of personalities and fights, even though their organization is overflowing with bizarre and interesting characters. Especially under the new management of WMG-IME, the UFC repeatedly goes for low-hanging fruits—the cocky trash talker, the "scary" knockout artist, the long-passed-their-prime big name, the hometown hero—instead of pushing into unexplored territory. And yeah, I know, it's not really reasonable to expect a big corporation to go very far outside the box, but the UFC's in the midst of desperate times, and desperate times call for something that's not the exact approach that got you here in the first place.

Could somebody like Mighty Mouse become a bigger star off the back of a history-making title run and Twitch pseudo-stardom? I honestly don't know. What bothers me, though, is that the UFC doesn't really seem to care enough to find out. The UFC continues to walk this precarious line between sport and entertainment—with the balance shifting ever further in the latter direction—but they're not good at it yet. Mighty Mouse might represent what the UFC used to be about—a champion who fights for the sake of pure achievement—but he also represents what it could become: an entertainment-sport hybrid that does more than rehash the characters and storylines that worked for boxing and pro wrestling. Instead of pursuing that, though, the UFC has mostly been alternating between confusing and boring lately, and I don't think any type of fan wants to watch that.