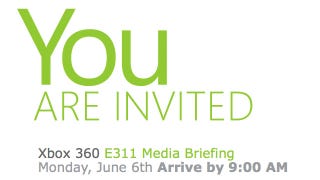 Just a few days after Sony told us when to expect its E3 2011 showing of all things PlayStation, Microsoft chimes in, letting us know when and where to expect their big E3 media briefing.
We were invited to the the Xbox 360 E311 Media Briefing earlier today, which is slated for Monday, June 6 at 9 am PST. We'll be there.
Microsoft offers no hints about its plans for the Xbox 360, Xbox Live or Kinect or whatever else it might have up its sleeve. This will be the seventh E3 at which the Xbox 360 is represented, but we'd be surprised if Microsoft has plans to show off new console hardware this year, unlike Nintendo, which is rumored to bring the Wii's successor to the show.
So, to plan your day, we've got Microsoft starting its E3 presence at 9 am on June 6, with Sony holding its media briefing later that afternoon at 5 pm. Now we wait for Nintendo...