The following satirical look at game design is an excerpt from Kotaku freelancer Matthew S. Burns' wonderful new book, Surviving the Game Industry: A Wasteland Guide, which rounds up his satirical columns from Game Developer magazine. You can get the book as part of this story bundle for anywhere between $3-$100 (it's pay-what-you-want).
---
MEETING REQUEST: SPACE BATTLER - HELMET KICK-OFF

AGENDA: The purpose of this meeting will be to decide how to proceed with the design of the helmet section of the body armor for SPACE BATTLER.
The open questions that will receive a drive toward clarity in this meeting are the following:
What kind of helmet is the most optimal to forward the goals for SPACE BATTLER's character, as set out in the SPACE BATTLER Character Bible document (see attached)?

What color should the helmet be? (If multiple colors, what color scheme should be employed to ensure that the multiple colors do not clash with each other?)

What is the overall purpose of the helmet?

Will there be other characters that need helmets? If so, will they share a similar helmet design, or do they need independent helmet designs? Can geometry between helmet types be shared in order to speed up construction time without sacrificing quality? If yes, what percentage of geometry will experience re-use?

After art, design, engineering, production, audio, and QA sign-off on a direction for the helmet, what are the next steps and checkpoint dates?

G/O Media may get a commission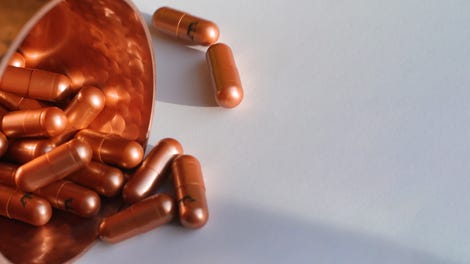 health
The Lyma Supplement
---
NOTES: SPACE BATTLER - HELMET KICK-OFF

A meeting was held to determine the direction of the helmet design for SPACE BATTLER. The meeting was attended by art, design, engineering, production, audio, and QA. The results of the meeting are as follows.
It was agreed that the helmet for SPACE BATTLER should be of the "science fiction" type. Since the setting of the game is science fiction, it follows that SPACE BATTLER's helmet should fit in with a science fiction universe.

According to the writing department, which participated in the meeting via conference call, the purpose of SPACE BATTLER's helmet is to protect his head from possible injury.

A concern was raised by engineering that an overly complex helmet may reduce the game's frame rate.

It was agreed upon by all parties that the helmet should "look cool."

WARNING: The color of the helmet is still not decided. Different helmet colors need to be explored before the final helmet color can be locked. However, the art director stated that whatever color the helmet ends up being, it should need "no more than two or three" different colors on it.
A checkpoint date was set for tomorrow.
---
MEETING REQUEST: SPACE BATTLER - HELMET CHECK-IN

AGENDA: Assess the current progress of SPACE BATTLER's helmet.
Is the helmet science fiction, as was decided upon in the kick-off meeting (see notes)? Do we need to adjust course?

Helmet color discussion continued.

Next steps and any other business.

---
NOTES: SPACE BATTLER - HELMET CHECK-IN

Progress on the helmet design was reviewed by art, design, engineering, production, audio, and QA. Possible helmet designs were narrowed down to three main options:
A helmet with rivets on the side and top that accentuate the feeling of strength possessed by SPACE BATTLER.

A helmet with an organic shape meant to evoke the alien technology that Nalana, Princess of Andromeda, gives to SPACE BATTLER. CONCERN: Players may not understand that this helmet was designed with alien (non-human) technology. Consider ways to explain SPACE BATTLER's possession of an alien helmet in a follow-up meeting.

A helmet made out of garbage that SPACE BATTLER had put together himself from junkyard parts. This would showcase resourcefulness and highlight the severe lack of resources the Earth has after the devastating alien invasion. It could also make him look more heroic, as he is fighting to save the world but with poor equipment.

Another meeting was scheduled to settle on one of the options.
Animation entered the meeting to ask why QA was included in a discussion about helmet design but not an animator.
---
MEETING REQUEST: SPACE BATTLER - HELMET FOLLOW-UP
AGENDA: Decide on the final helmet design approach and achieve sign-off from all parties.
This is the meeting where the helmet design will be locked. If you have any additional concerns about the helmet design, now is the time to bring them up.
---
NOTES: SPACE BATTLER - HELMET FOLLOW-UP
The SPACE BATTLER helmet design was reviewed by art, design, engineering, production, audio, and animation with final sign-off as the goal.
Animation brought up a concern that none of the options make it possible for SPACE BATTLER to tilt his head.

Engineering expressed some reservations about the alien helmet design, saying it might require complex shaders. There was also concern about the junkyard design, as it may require too many polygons. Finally, the riveted design may be too memory-intensive due to its high-resolution normal maps.

The color discussion was settled and locked. The helmet will be gray, or maybe it will be customizable (pending tech investigation).

---
MEETING REQUEST: SPACE BATTLER - HELMET PROCESS POSTMORTEM
AGENDA: Discuss the design process of the SPACE BATTLER helmet.
What worked well about the SPACE BATTLER Helmet Design Process (SBHDP)?

What didn't go as smoothly as hoped?

What process improvements can we carry forward into the design process for SPACE BATTLER's kneepads?

---
NOTES: SPACE BATTLER - HELMET PROCESS POSTMORTEM
Meeting was postponed indefinitely. Due to time constraints, participants decided to begin the SPACE BATTLER kneepad design immediately and discuss process at a later date.
Matthew S. Burns is a freelance contributor to Kotaku. You can follow him on Twitter at @mrwasteland.