Ayamo might look like your typical hipster fashion model: she's got lipstick kiss-marks tattooed on her wrist and she wears Ramones shirts and blue bandanas. A quick peek in her bedroom reveals otherwise. She might be into skateboards, but she's also a giant otaku.
"I go to Nakano Broadway to look at anime figures, Akihabara to buy games and go shopping at Harajuku," she said in a video interview last year. Harajuku's style peak was in the early to mid-1990s, but the area is still a hub for funky Japanese fashion.
The diminutive 23-year-old Ayamo is a model for fashion rag Zipper, a Harajuku-style street fashion mag. A self-described Harajuku gal, she runs with the Tokyo fashionistas and is buddies with Yasumasa Yonehara, the famed photographer and magazine editor I interviewed for Japanese Schoolgirl Confidential.
She's not just a model, she's a trend-setting "charisma" model, a leader in the world of Japanese fashion. And while she says she's into metal and hardcore, her room is different.
On a recent episode of variety show Downtown DX, she showed off her apartment, which was cluttered with game and anime paraphernalia — whether it be Mario Bros., visual novels School Days or Little Busters! or dating simulator Love Plus. Her bathroom is even totally geeked out - complete with a Neon Genesis Evangelion.
G/O Media may get a commission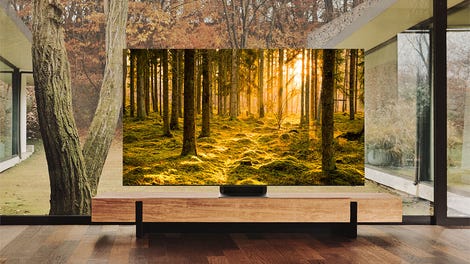 Up to 40% off
Samsung Smart TVs
When she's not wearing designer jeans and Skid Row t-shirts, she's cosplaying as a maid or anime characters, like Yui Hirasawa from K-On!. And on Downtown DX, Ayamo's fingernails were done up as the characters from the popular anime Lucky Star.
Unlike nerd heroine Shoko Nakagawa who started out popular among Akihabara otaku and then hit the mainstream, Ayamo got her start with mainstream Japanese fashion. Her latest exploits will, no doubt, earn her a considerable fanbase among Japanese otaku. However, Shoko Nakagawa, who's incidentally this month's Zipper covergirl, seems to shedding her otaku roots bit-by-bit.
Ayamo is the personification of the female protagonist Hermes in Train Man: she appears to be anything but a huge geek, but a look in her room proves otherwise. Ayamo is an otaku, strong and proud. And this was her televised declaration of nerdom.
Culture Smash is a daily dose of things topical, interesting and sometimes even awesome - game related and beyond.