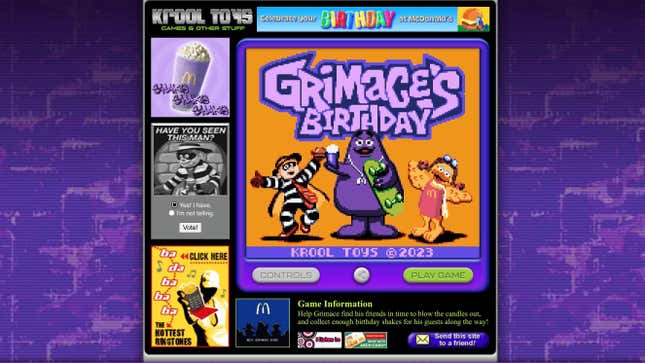 McDonald's, purveyor of refrigerated cheese and meat patties, is getting into the video game business to celebrate original character Grimace's 52nd birthday. The hairy purple blob inspired a side-scrolling platformer that runs on mobile, desktop, and most surprisingly, Game Boy Color, and McDonald's released it for free on June 12.
The Week In Games: Dragon Ball Baddies Break Out
Grimace's Birthday—created by Brooklyn-based indie studio Krool Toys, which previously worked on turning popular albums into retro games—takes place on, as it were, Grimace's birthday. He has to round up his missing friends before it's time to blow out the candles on his cake, and you guide him to them on his very cool skateboard, picking up whipped purple milkshakes along the way. There's both a normal mode and "hard mode," where auto-grind is removed and tricks receive double the points.

Krool Toys did not immediately respond to Kotaku's request for comment but, at present, the Game Boy ROM is available on Internet Archive. In a press release, McDonald's only advertises its optimized versions for mobile and desktop.

You can see why. The game's official website, where you can play it without download, looks like it's part of the perfect 2000's internet time capsule, flanked by ringtone advertisements and a cheerful image of a sealed letter: "Send this site to a friend!"

Grimace was born in 1971, for the record, but computers weren't necessarily as cute then.

If Grimace's Birthday leaves you craving more McLicensed gaming entertainment that runs on old hardware, consider hunting down a copy of the 1988 Japan-only release Donald Land for the Famicom/NES, or help Ronald McDonald retrieve his Magic Bag from the pesky Hamburglar in 1992's M.C. Kids, again for the NES.
More timelessly, McDonald's also unveiled Grimace merch. For those who prefer a big sandwich over bucket hats, try, instead, the Grimace Birthday Meal—which features "a limited-edition purple shake," McDonald's press release says, "the choice of a Big Mac or 10-piece Chicken McNuggets, and World Famous Fries." These are all the makings of an exquisite recess.