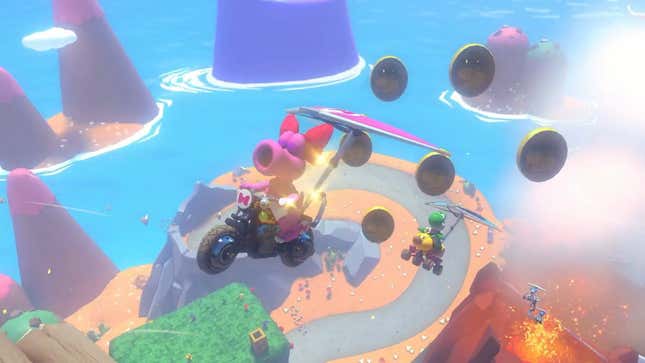 During today's Nintendo Direct, the company announced the next batch of Mario Kart 8 Deluxe DLC, which will bring Birdo to the long-running kart racer this spring.

This Halo Infinite Map of Zelda's Kokiri Forest Is Absurdly Detailed
Birdo is accompanied by a course based on Yoshi's Island, which is based on the spin-off series of the same name. Both the racer and track are part of Mario Kart 8 Deluxe's Booster Course Pass, which costs $24.99. Birdo and Yoshi's Island are part of the fourth wave of DLC for Mario Kart 8 Deluxe, which has included new racers, tracks, and cups. In total, the pass has 48 additional courses on top of the 48 courses already included in the main game.
Check out the trailer for Birdo and Yoshi's Island below:
Mario Kart 8 Deluxe launched in 2017 for the Switch after the original game initially launched on the Wii U back in 2014. It was one of the earliest examples of Nintendo porting Wii U games to the Switch, which has given a lot of people a chance to play the games on a console that is actually selling well. Mario Kart 8 Deluxe has been one of the biggest beneficiaries of that initiative, as the port has sold over 52 million copies since 2017.

Much of that success comes from Nintendo's continued support of the game, as the Booster Course Pass has helped to keep the game alive for nearly six years at this point. And now it gets Birdo, who I'm frankly surprised took this long to be added to the roster. The trailer shows several color variations for her, as well, including pink, yellow, blue, orange, red, and green.
While Nintendo has been actively supporting Mario Kart 8 Deluxe, the company also weirdly enough put out an update for Mario Kart 7 recently for the first time in 10 years.