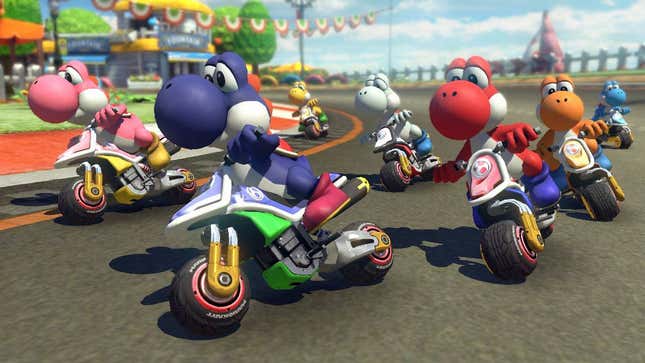 There's a common wisdom in Mario Kart 8 Deluxe: Lighter characters handle better, but they can't reach the top speeds seen from some of the heavier competitors. It's a trade-off that keeps most of the characters relevant in Mario Kart meta. Now that everyone has had plenty of time to "git gud," the gulf isn't as necessary anymore. So Nintendo has fixed that. Rather than nerfing characters that have been used in competitive play for *checks watch* 6 years, most of the light and medium characters on the roster received speed buffs. So it might finally be easier for you to beat your friends who main heavier characters like Donkey Kong or Wario.

Why Mario Strikers: Battle League Could Be Nintendo's Next Multiplayer Hit
These balancing changes come with the latest 2.3.0 patch. Nintendo's patch notes only make a passing mention of these speed changes saying the update "improved the performance of some characters and vehicle customizations."
But a Mario Kart dataminer later determined that most of the cast had their speeds buffed. Almost every character had ground, water, and anti-gravity speeds increased by one point. The exceptions were Metal Mario, Gold Mario, Pink Gold Peach, Waluigi, Donkey Kong, Roy, Wario, Dry Bowser, Bowser, Morton, and giant Mii, all of which are heavier characters that already reached top speeds. So these buffs were likely implemented to balance lighter characters with the heavyweights.
Lighter characters also have slightly improved turbo-speeds now. These include Baby Mario, Baby Luigi, Dry Bones, small Mii, Toad, Shy Guy, Larry, Peach, Daisy, Yoshi, Mario, Ludwig, medium Mii, Luigi, and Iggy. Turbo has also been improved for every vehicle tire except for Roller, Azure Roller, Button, and Leaf Tires.
The same dataminer also determined that Time Trials will no longer round up speeds to "the full frame." This was a bug that only occurred on the Mount Wario or Big Blue tracks. The game would round final times according to the frame count instead of the actual time. So if you're a competitive Mario Kart racer, it might be worth redoing your old times on those specific tracks.
Watch out, Wario mains. The newly buffed Rosalina meta is coming for your crown.