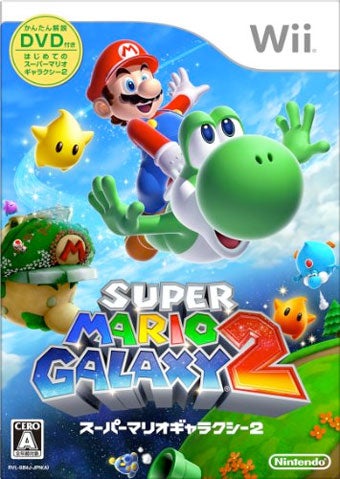 After taking a week off to give Wii role-playing game Xenoblade a moment in the sun, Super Mario Galaxy 2 returns to its first place spot in Japan. Two new Nintendo DS games came closest to threatening Mario's chances.
Those two games were Capcom's Ghost Trick, a clever-looking adventure game from the creator of the Ace Attorney series, and Egokoro Kyoushitsu DS, Nintendo's new painting tool that falls under the "non-game" category. Wonder if we'll see the latter come stateside...
There's at least one new PlayStation 3 game on the list, the debut of Trauma Team in Japan, a new Tamagotchi title and a new contender for longest game title ever. That'd be Kochira Katsushikaku Kameari Kouenmae Hashutsujo: Machiteba Tengoku! Makereba Jigoku! Ryoutsuryuu Ikkakusenkin Daisakusen! (Emphasis Banpresto's.)
Next week, Love Plus+. Be afraid.
01. Super Mario Galaxy 2 (Wii) - 53,000 / 572,000
02. Ghost Trick (DS) - 24,000 / NEW
03. Egokoro Kyoushitsu DS (DS) - 21,000 / NEW
04. Xenoblade (Wii) - 21,000 / 104,000
05. Grand Theft Auto: Episodes from Liberty City (PS3) - 21,000 / 85,000
06. Tamagotchi no Pichi Pichi Omisecchi (DS) - 17,000 / NEW
07. World Soccer Winning Eleven 2010: Aoki Samurai no Chousen (PS3) - 16,000 / 122,000
08. Tomodachi Collection (DS) - 14,000 / 3,277,000
09. World Soccer Winning Eleven 2010: Aoki Samurai no Chousen (PSP) - 13,000 / 69,000
10. Hakuoki: Junsouroku (PS3) - 13,000 / NEW
11. Dragon Quest Monsters Joker 2 (DS)
12. Fairy Tail: Portable Guild (DS)
13. Wii Fit Plus (Wii)
14. New Super Mario Bros. Wii (Wii)
15. Soccer Tsuku DS: World Challenge 2010 (DS)
16. Metal Gear Solid: Peace Walker (PSP)
17. Mario Kart Wii (Wii)
18. Medarot DS: Kabuto / Kuwagata (DS)
19. Trauma Team (Wii)
20. World Soccer Winning Eleven 2010: Aoki Samurai no Chousen (PS2)
21. Monster Hunter Portable 2nd G (the Best) (PSP)
22. Just Cause 2 (PS3)
23. Kochira Katsushikaku Kameari Kouenmae Hashutsujo: Machiteba Tengoku! Makereba Jigoku! Ryoutsuryuu Ikkakusenkin Daisakusen! (DS)
24. Wii Sports Resort (Wii)
25. Lost Planet 2 (PS3)
26. Mega Man Zero Collection (DS)
27. New Super Mario Bros. (DS)
28. World Soccer Winning Eleven 2010 Play Maker: Aoki Samurai no Chousen (Wii)
29. Pokemon HeartGold / SoulSilver (DS)
30. Hisshou Pachinko * Pachi-Slot Kouryaku Series Portable Vol. 1: Shinseiki Evangelion - Tamashii no Kiseki (PSP)