Shigeru Miyamoto, the man behind Mario, reflects on the past 25 years of his creation in a new interview with fellow creator Shigesato Itoi, explaining how creating Super Mario Bros. and the Mario games that followed was the "easy" way out.
"When there are several possibilities, I choose the easy one," Miyamoto explains to the creator of Mother and Earthbound. "For quite some time, I have viewed Professor Rubik, who created the Rubik's Cube, as a sort of rival. I've always thought it would be cool to create something like a Rubik's Cube."
Miyamoto's told the story of Rubik's creation before, citing it as a major inspiration for him.
"For 20 years, I've always thought that Rubik's Cubes are great and I want to make something like them, but I still haven't tried to," he says. "So I must be taking it easy. Regardless of whether I can or cannot do it, I could at least give it a shot, but I never have."
"Similarly, I've always said that I wanted to become a manga artist," he adds. "One time, I suddenly thought I could still do it if I wanted. So I declared to [Takashi Tezuka] that I would try drawing a simple four-frame comic strip. I drew a rough layout for one and showed it to him, and he said it was good, but I haven't done anything since. (laughs) Really, making Mario games is easier."
G/O Media may get a commission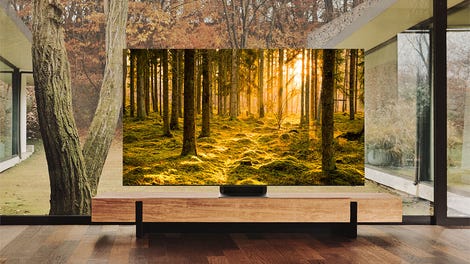 Up to 40% off
Samsung Smart TVs
Itoi likens Miyamoto's skill at making Mario games, year after year, to that of an athlete.
"The way the cartilage in a baseball pitcher's elbow changes, you have changed as a person while making Mario and other games," Itoi concludes. "So when you and someone else are walking along a path together, you-unlike that other person-are walking along that path as the person who makes Mario games. I mean, even when you're watching a Japanese morning TV drama show, you're stockpiling materials for a Mario game."
The full ten page interview isn't exactly boiling over with fascinating insights and fun facts about Super Mario Bros., but does read like a nice conversation between two fascinating creatives.