Players of the kid-friendly MMO MapleStory 2 say that the player-created item shop is rife with racism and anime porn. The Maple Story 2 team told Kotaku that they "actively monitor the Design Shop for offensive material as well as have a reporting system," but also: "Given the volume of the reports, there has been a delay in the review process."

MapleStory 2 is an MMO full of bright primary colors and adorable player characters. While MapleStory 2 doesn't have an age rating, the first MapleStory was rated 10+ by the ESRB, and the sequel's rounded corners and cutesy aesthetic make it appear as if it's intended to appeal to children, at least in part. In the game, players can make items and upload them to a store where other players can buy them, called the Meret Shop. While the game bans certain words, including "trump" and "porn," some players have found ways to get around the bans and upload items with political slogans or sexual references.
The MapleStory 2 team described the process in its full statement to Kotaku:
"All the items under the 'Design Shop' are created by players, not Nexon. Our policy is to let players create, but we review and ban players and content based on ToS and reports of offensive content.

We actively monitor the Design Shop for offensive material as well as have a reporting system so that players can report content they find offensive through built-in tools. Based on the report, we tightly review every single item and remove the item from the shop, and from the inventory of the players who purchased, and ban player accounts. Content containing sexual, racist, hateful or other inappropriate items are flagged higher in priority for removal. Players who post offensive items or images are subject to being banned permanently from the game. We have been acting very quickly and ask that whenever players see those items in the shop to report immediately using the report button.

Given the volume of the reports, there has been a delay in the review process. We are trying our best to continue to reduce the gap and speed up the response time to make a better game and maintain a respectful community."
At the time of this writing, players have definitely found ways around the ban of the word "trump," for example. If you search "MAGA" in the Meret Market, you will immediately find a vehicle with President Trump's face on it, as well as an image of "NPC Wojak," a reference to the dehumanizing NPC meme.

G/O Media may get a commission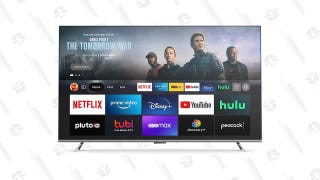 Save 46%
Fire TV 55" Omni Series 4K UHD Smart TV
While some players clearly want to share their political opinions, others just want to get sex-related content in there. Searching "hub," for example, yields clothing items with a riff on the PornHub logo. Other players are less subtle: wearching "waifu" will show you pornographic images of anime characters.
More worrying are the explicit references to white supremacy. Searching for "pride" in the Meret Market yields gay and trans pride themed items, but you'll also be able to find a shirt that says "Proud To Be White," with the tag "WhitePower."

One player who wished to remain anonymous told Kotaku that they have seen items like this on the Meret Market since the game's official launch on October 10. "It's really overt," they said. "People will advertise in world chat channels to buy their new items, and its often a MAGA hat or something. And the players putting these designs up for sale are rewarded with game currency." On the MapleStory 2 subreddit, players have shared images of characters wearing Trump masks and MAGA hats as far back as three months ago.
This player told Kotaku that they'd tried reporting the items, but nothing had happened. "The same items are still up for sale. You still see them all over," they said. "They might have people working on it, but I've seen absolutely no change in anything. Items put up for sale don't have to be approved, so people can put up anything."
It's not clear who are making and downloading these items. They might be trolls looking to get a rise of people online. They might also be real white supremacists trying to recruit people, as some have claimed to have done in other online games. No matter what, it's disturbing than an impressionable kid could find white supremacist content in a chipper-looking game just by searching for the word "proud," and hopefully MapleStory 2's developers will succeed in their stated efforts to "speed up the response time" to players' reports.