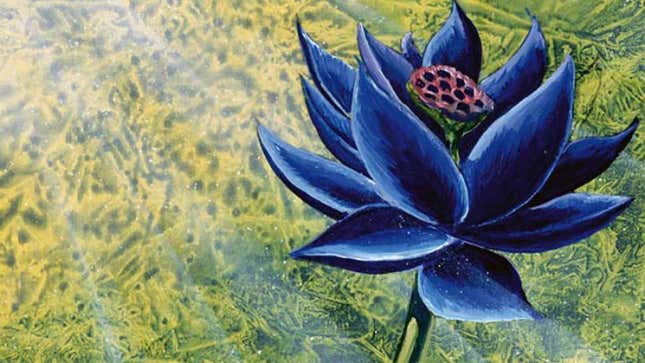 The most sought after Magic: The Gathering card looks relaxedly dignified to people who don't play the game, displaying a stretching flower the same color as an overripe blueberry and its name in muted gray text: "Black Lotus." A novice could appreciate the card, the art provided by deceased, renowned Magic illustrator Christopher Rush, but a collector can look at the understated flower and know its expensive truth. How expensive? Well, it broke two public auction records this month.

Elden Ring's Top Five Spells, According To FromSoftWare's Stats
Right in a row, too. On March 16, a PSA 10 Gem Mint Alpha (Alpha means it was part of the initial print run in 1993) Black Lotus sold for $540,000 at a PWCC Marketplace auction, along with a case signed by Rush, and then an Artist Proof (a white-backed card printed solely for the artist) Near Mint/Mint+ 8.5 copy, also signed by Rush, went for $615,000 on Heritage Auctions on March 24. Both destroyed Black Lotus' previous auction record, $511,100 in 2021, and all three prices look obscene next to fans' personal anecdotes about buying the card for a couple hundred dollars twenty years ago.

According to Professional Sport Authenticator's website, there are only six Gem Mint 10 condition Black Lotuses in existence, and 41 Near Mint/Mint 8 copies. Though, that number is much smaller for signed, Artist Proof Black Lotuses, which rapper Post Malone admitted in 2022 to purchasing for $800,000.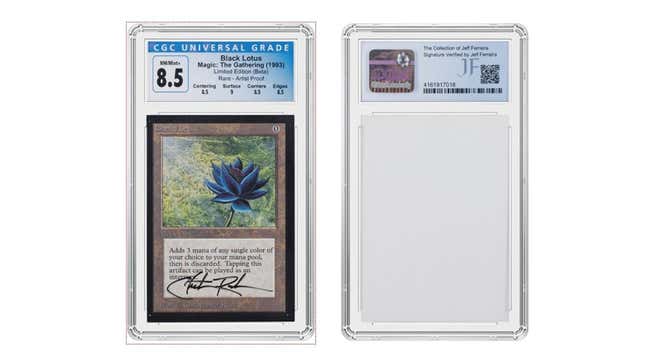 "It was an artist print, Chris Rush-signed Black Lotus," he reasoned.

In the case of this month's most recent record-breaking auction, the Artist Proof card also came from Rush's former agent Jeff Ferreira's personal Magic collection.

Heritage Auctions boasts about it in its description of the Black Lotus: "The rarity of the card cannot be understated, as the copies known to exist in the community is incredibly small," the auction house says, "and for any copy, much less a signed copy, to come up for public auction is unheard of."

"Do not miss out on this once-in-a-lifetime opportunity to own a piece of Magic: The Gathering history," Heritage continues. Ominous.

The card's owner is currently accepting offers over $922,500, if you're interested. Otherwise, some other items from Ferreira's collection are still available for bidding, including a Near Mint 7 Black Lotus (accepting offers above $22,500) and an acrylic Black Lotus painting made and signed by Rush in 2014 (accepting offers above $11,250). Who even needs to buy a house?