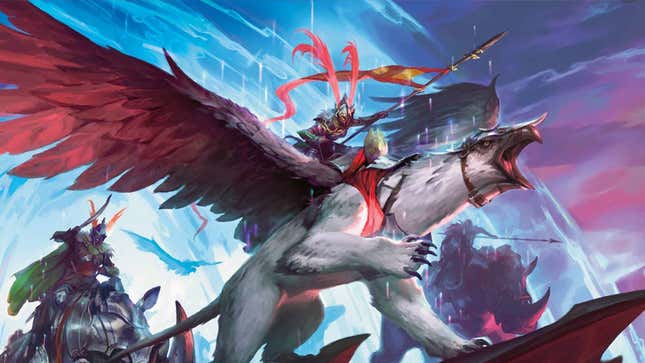 Yesterday, Kotaku reported that Magic: The Gathering maker Wizards of the Coast had sent Pinkerton detectives after a YouTuber after he had erroneously purchased an upcoming booster box for the collectible card game ahead of its release date. Today, the streamer revealed more details about exactly what these rent-a-cops said to convince him to surrender his cards.
Dan Cannon said in a YouTube video that he had purchased not-yet-released March of the Machine: Aftermath booster boxes on Friday from a local dealer while thinking they were part of the recently released March of the Machine set. It seems likely that someone in WotC's distribution network had screwed up, perhaps sending out the wrong boxes due to the similarly named product lines, and he ended up with MtG cards that aren't supposed to be for sale. After he posted about these cards online, Pinkerton agents showed up to intimidate him into giving the cards back to WotC. (Wizards of the Coast has confirmed to Kotaku via email that it employed the private detectives as part of its investigation.)
"[The Pinkerton agents] cited several statutes about copyright infringement and some other things threatening 1-10 years in jail and up to $200,000 in fines if I failed to cooperate," Dan Cannon told Kotaku over an email. "They also said if I didn't hand over the product, they would call the county sheriff and detain us until they arrived to arrest us and search my house for the product and that they would most likely force us to show receipts for every magic card in the house (which is literally over a million cards)." Kotaku reached out to Wizards of the Coast, but did not receive a comment by the time of publication.
If the Pinkertons claimed that they were going to account for over a million cards, that's really diligent of them. It's little wonder that corporations have relied on them to responsibly bust unions and to surveil workers. Kotaku reached out to Pinkerton to ask whether or not this procedure is typical of their investigations, but did not receive a response by the time of publication.
Pinkerton now advertises itself as a risk management and security company, but the organization has had a sordid role in American history as strikebreakers and union-busters. They're no longer shooting steel mill workers or infiltrating railroad strikes, but their recent history is no less anti-labor. Amazon reportedly used Pinkerton to spy on European workers who engage in union activism. Tech companies such as Facebook and Google have also hired the agency to spy on their own employees.

Cannon told Kotaku that he is currently unsure about pursuing legal action.