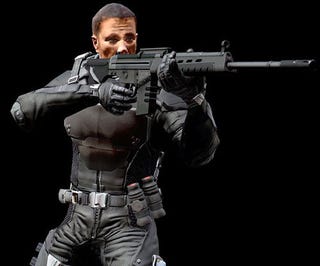 Zipper Interactive unzips its second free downloadable content for massive multiplayer shooter MAG next week, with a trio of special edition sniper rifles ready to make life more difficult for players with a love for wide-open spaces.
The second dose of free MAG DLC is known as the Fast Attack Gear Pack, focusing on players who prefer to shoot, move, and shoot again. Raven's HM 90 SE, SVER's SASR M, and Valor's MK 14 Mod 1 EBR special edition sniper rifles include a number of performance adjustments and visual tweaks to help the stylish sniping bastard stay on top of his or her game.
Each faction also gets a set of Improved Light Armor, providing 400 in-game credits' worth of low-profile protection.
The MAG Fast Attack Gear Pack will be available free on the PlayStation Network on April 29. Seek cover now.
MAG Free DLC: Fast Attack Pack on April 29! [PlayStation Blog]