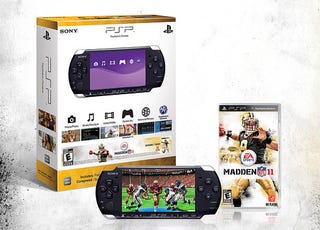 Sony may not have confirmed that there is a Playstation 3 Madden bundle yet, but they did unveil a new Playstation Portable Madden 11 bundle today.
The PSP bundle comes with a Black PSP-3000 (i.e. not a PSPGo) and the Madden NFL 11 UMD game for $169.99 starting on Aug. 10.
Still no word on whether the rumored Madden 11 PS3 bundle is in the works, but if it is I'd expect to be hearing something very soon.
NEW Madden NFL 11 PSP Bundle [Playstation Blog]