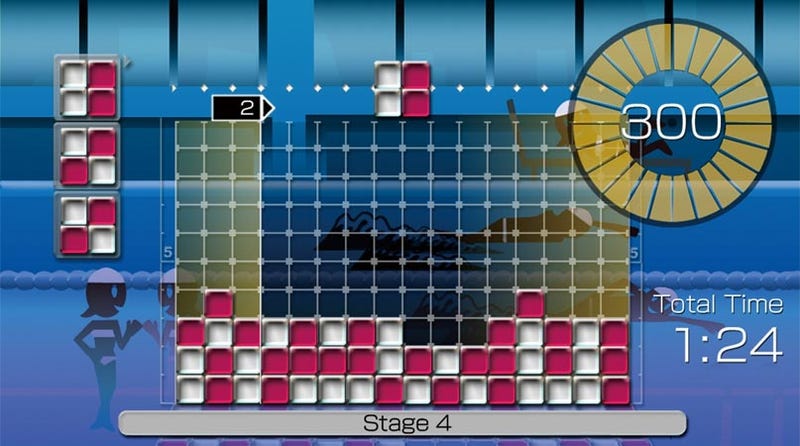 Q Entertainment's sound and lightshow-cum-puzzle game Lumines was one of the breakout hits for the PSP. It has since been ported to everything possible, including the PlayStation 3. Does Lumines Supernova bring anything new?
Fortunately, yes. While the color-matching, Tetris-like gameplay is unchanged, a few new modes make Lumines Supernova a worthwhile entry in the series of ports. Like its high-definition predecessor Lumines Live!, Supernova builds upon an already strong gameplay foundation, piling on new modes and features.
Is it worth another trip?
Loved
New Modes: Dig Down mode and the Sequencer add fresh gameplay options to the Lumines experience, thankfully, considering that the core experience is the same one we've been playing for years now. What these two options add are new ways to look at the same gameplay, with the Sequencer simple to use, easy to edit and quick to enjoy. When you're done completing the missions, puzzles and unlocking everything, the stock Challenge Mode still provides a thrill.
Still As Addictive As Ever: Lumines was a great game in 2005 and somehow still remains to feel fresh. It's been hard to pull myself away from the game to write up this review, frankly. The tactics aren't the deepest, but there's still plenty of worthwhile challenge in Lumines Supernova.
Hated
No Online Multiplayer: What happened to the online multiplayer mode present in the Xbox 360 version? There's still plenty to do here, but to have this option taken away stings. Fortunately, the PlayStation Network version at least feel less like a nickel and dime cash grab.
While Lumines superfans may not find much in Supernova to warrant yet another fifteen dollar purchase, for those of us who skipped an entry or two, there's still plenty to like about the PlayStation 3 version. If you've never had the opportunity to try the game out on any platform, it's absolutely worth your time.
Lumines Supernova was developed and published by Q Entertainment, released on Dec. 23 for PlayStation Network. Retails for $14.99 USD. Tested all modes.
Confused by our reviews? Read our review FAQ.