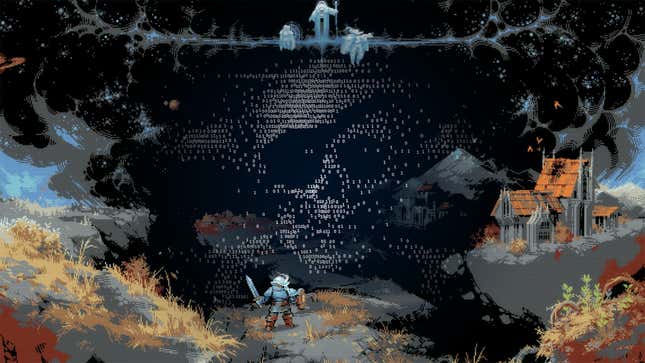 Four Quarters, the developer behind the highly regarded deck-building roguelike Loop Hero, is encouraging players to pirate its game if they can't find any legal means of purchasing it amid the ongoing sanctions placed on Russia after its military invasion of Ukraine.
Grand Theft Auto 6 Comments: A Dramatic Reading
The sanctions placed on Russia have made purchasing games on online storefronts like Steam very difficult for Russian gamers. When concerned players took to VK, a Russian social media site, with questions on how to purchase Loop Hero and support the Russian indie game developers amid the sanctions, Four Quarters responded in a post on Sunday by encouraging players to "raise the pirate flag" and torrent the game instead. In the post, Four Quarters linked players to a torrent version of Loop Hero on RuTracker, Russia's largest BitTorrent tracker website, and reminded players to use a VPN as well.

"First of all, [the war and sanctions] hit us morally very hard because we do not support the war," Four Quarters told Kotaku. "On February 24, we could not believe that this whole nightmare had begun."
Four Quarters told Kotaku it could not elaborate on how the ongoing war between Russia and Ukraine and its subsequent sanctions have affected developers emotionally and financially in fear of arrest for up to 15 years under new Russian laws punishing anyone for spreading "false information" about the war being a war.
Read More: Russia May Legalize Software Piracy As Tech And Game Companies Continue To Pull Out

The war between Russia and Ukraine, which Four Quarters denounced in a pinned Twitter post, negatively impacts Russian devs as well as Russian gamers. Although the devs haven't yet faced retaliation for speaking out against the war, Four Quarters told Kotaku it's received hateful messages from a couple "suspicious accounts."
"Most of our audience supported us, even though it is already scary to give a like to any anti-war statements, even such small ones," Four Quarters told Kotaku.
 While gamers are not able to purchase games online, Russian devs haven't been able to cash out any payments earned through Steam. This is due to the storefront halting all bank payments to Russia and Ukraine. Players on VK, seemingly aware of this fact, offered to send the Loop Hero devs direct donations. However, Four Quarters doubled down on its stance in a VK post yesterday, telling players, "There is nothing wrong with torrents."

"We are very grateful for your support, but the truth is that everything is fine with us," Four Quarters posted, according to a Google translation of the post. "Send this support to your family and friends at this difficult time."

Update 03/30/2022 10:50 a.m. ET: The post has been updated to include comments from Four Quarters.