A2M's Naughty Bear, a video game about a deranged child's toy with murder in its heart, wasn't the blockbuster success I hoped it would be. Perhaps the concept just needed to be powered by a familiar face. After that it's all Child's Play.
As far as children's toys go, they don't come much more frighteningly familiar than Chucky, star of the 1988 horror film Child's Play, in which the soul of a serial killer gets trapped inside the body of a doll. Rather than enjoy his second chance at life, succumbing to the comforting cuddles of his new child companion, Chucky goes on a rampage, killing droves of people in incredibly creepy ways.
Twenty-four years and four sequels later, we're finally getting a Chucky video game, courtesy of TikGames.
In development for "gaming platforms", Chucky will be a stealth-action romp that allows the player to decide who lives and who dies at the tiny hands of the doll-faced serial killer.
Why now? Because fans have been asking for it.
"We're proud to be able to bring a fan-favorite movie character, such as Chucky, to gaming platforms," said Alex Tikhman, Co-Founder and Vice President of Publishing for TikGames. "Fans have been asking for a Chucky game for years and, soon, gamers around the world will be able to enjoy highly-entertaining, interactive, downright gory experiences with this brand."
G/O Media may get a commission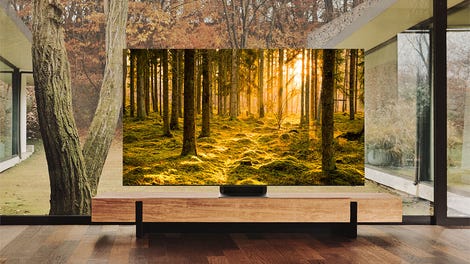 Up to 40% off
Samsung Smart TVs
I've never met any of these fans, but that doesn't mean they don't exist. I'm sure someone is thrilled with this idea, just as I am sure that TikGames will bring the full force of its experience developing games like Panda Craze and Merriam Webster Spell Jam to bear in making this the best killer doll game ever created.
Chucky will launch on console and PC digital distribution channels this fall.