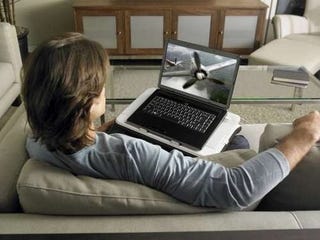 Finally, audio for your crotch.
Packing dual high-definition speakers, a fan and a padded base, Logitech's Speaker Lapdesk N700 promises to deliver theater-quality audio to the one place you probably thought you didn't need it.
"The Logitech Speaker Lapdesk N700 helps transform your laptop into a private theater in the cozy confines of your lap," said Denis Pavillard, Logitech vice president of product marketing for laptop accessories.
Now you can enjoy thundering bass while playing World of Warcraft laying in bed surrounded by a halo of Cheetos and beer cans.
The $80 accessory hits the U.S. next month February and Europe in March, though I don't think there will be lines of people waiting to pick it up.