Microsoft gave this year's Tokyo Game Show keynote, but that doesn't mean Sony won't be giving a press conference. It so will be. What will be in store? What won't be in store? Let's find out.
And we are underway, Sony has mentioned the the PlayStation Move will launch in Japan will be October 21. Fifteen companies are working on 35 titles for the Move.
Now they are showing Final Fantasy XIV in 3D. There is also a trailer for Metal Gear Solid: Rising in 3D.
G/O Media may get a commission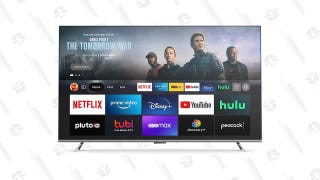 Save 46%
Fire TV 55" Omni Series 4K UHD Smart TV
And Gran Turismo 5 in 3D.
Now we are on to 3D movies. Thrilling! The PS3 will get Blu-ray PS3 firmware later this month.
On October 21, Sony will be releasing a 320GB PlayStation 3. This December there will be a new Monster Hunter-branded PSP to mark the release of Monster Hunter Portable 3rd.
Here is a close-up. Apologies for image quality as Sony has told us that photography was prohibited by those standing up. These are stream images, but hopefully we will be able to upload images from Kotaku Japan later.
And here is the front.
Now Square Enix's Shinji Hashimoto is showing a trailer for PSP game The 3rd Birthday. The trailer has vehicles! The game will be out in Japan on
Now, Sony is showing a the trailer for the upcoming Final Mix of Kingdom Hearts. The game, which was revealed in this week's Famitsu, is titled Kingdom Hearts: Birth By Sleep Final Mix, and it will feature English voices. Square Enix has done "final mixes" of its games for domestic audiences in the past.
A skin of Lighting from Final Fantasy XIII will appear as downloadable content for The 3rd Birthday.
Level-5 president Akihiro Hino has taken the stage.
There is a Ni no Kuni trailer, but it is not new. Hino explains that "Ni no Kuni" means "Two Worlds" — and not necessarily "another world" in regards to how it fits in the game.
Keiji Inafune from Capcom has taken the stage and is showing the trailer for Asura's Wrath — it's the same trailer from last night. Next up, the DmC: Devil May Cry trailer. The same one as last night.
Kenichiro Imaizumi from Kojima Productions has taken the stage. He is introducing Castlevania -Lords of Shadow-. The game hits Japan in mid-December (December 16 to be exact).
And now Toshihiro Nagoshi, designer of Sega's Yakuza games, has taken the stage. He is showing a trailer for his Yakuza-zombie extravaganza, Yakuza: Of The End.
Sony is now running a trailer for the HD version of Ico and Shadow of the Colossus. The HD makeover really looks nice.
Fumita Ueda, the designer behind Ico and Shadow of the Colossus is now presenting a trailer of The Last Guardian. The game will be out in winter 2011. It is hard to tell from the poor quality screencap, but the game looks quite nice.
Bandai Namco is now showing of their latest Gundam Musou game. A new Ace Combat is being introduced!
It is called Ace Combat: Assault Horizon. Release date was not announced, ditto for platform — but it looks like a home console title.
Now, From Software has taken the stage and is talking about "Project Dark", saying it is a game for those that like Demon's Souls.
The game is a PS3 exclusive and features demons and looks very dark. Form Software seem to have struck a style and vibe with Demon's Souls, and Project Dark looks as though it is capitalizing on that.
And we've got another Gran Turismo 5 trailer. Because you can never have too many GT5 trailers! That game looks great as always.
A November 3 release for Japan is mentioned. (The release date hasn't changed, so it seems like Polyphone Digital will get the game out the door in time — good news!)
And now Tecmo Koei. Dynasty Warriors 6 is a PS3 exclusive.
And that's a wrap!