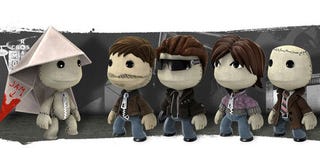 The cuteness of Media Molecule's LittleBigPlanet, with its adorable Sackboys, just waiting to be dressed, seems like an odd crossover for murder mystery and kidnapfest Heavy Rain. But cross the two PlayStation 3 games shall this week!
Whether you prefer to dress your Sackboy in the leather jacket of Jayden or the facial hair of Ethan, Media Molecule has you covered. Now you can make that LittleBigPlanet mall level in which you search for your missing child with an extra layer of authenticity!
The LittleBigPlanet Heavy Rain costume pack will be available Tuesday for North America, Wednesday for the UK, and Thursday for the rest of Europe, says of the game's official site.