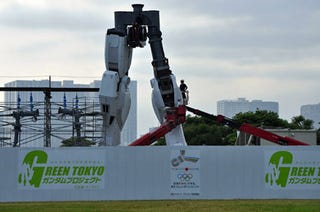 Work has started on the "life-sized" Gundam. To celebrate the 30th anniversary of the mecha anime/manga/toy/video game franchise, an 18-meter-tall (59-foot-tall) Gundam statue will be erected in Tokyo this July.
Part of the "Mobile Suit Gundam 30th Anniversary Project," the structure in Odaiba's Shiokaze Park will stay up for only two months and be built from fiberglass-reinforced plastic over a steel frame and coated in a layer of awesomeoness. Fifty points on the Gundam statue will emit light, and mist will shoot out of 14 different points on the statue. The 1/1 scale Gundam will boast a moveable head.
So far, they've got the legs up. And there they are: Giant robot legs. Hot.
Gundam's leg [Heaven NSFW via Sankaku Complex]