Much like Ferrari and Lamborghini in the automotive world, Lian Li is considered by many to be the flagship computer chassis manufacturer.
The Week In Games: Fishing For Mysteries And Gang Wars
Although they have been in business since 1983, it wasn't until around 2000 that they began turning heads with their all-aluminum PC-60 series enclosures. This happened to be the first enthusiast case I ever reviewed, and at the time, it was light years ahead of anything else on the market.
A decade later, Lian Li is still making great cases but they aren't the only premium enclosure vendor on the block. With stiff competition from the likes of Silverstone, Corsair, NZXT and several others, does Lian Li still have what it takes to remain relevant in the ever-changing PC market?
Today we'll be looking at the Lian Li PC-V2120A, a luxury full tower chassis that supports most standard motherboard form factors and also EVGA's exotic HPTX format. In a nutshell, the PC-V2120 sports a tool-less aluminum design supporting up to ten 3.5-inch and two 2.5-inch HDDs, 11 expansion cards and five fans.
G/O Media may get a commission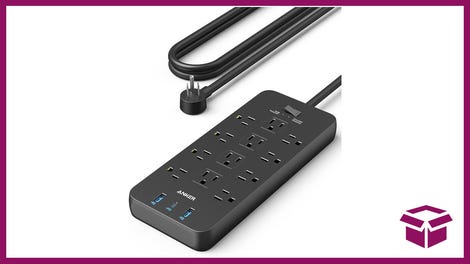 28% Off
Anker Power Strip Surge Protector
The PC-V2120 is available in three different color schemes: black with a silver interior, silver with a matching interior and black with a black interior. We were sent the all-silver version for evaluation which will set you back a handsome $399. The black aluminum models go for a larger premium at $429 for the black exterior, and $499 for the black on black chassis.
Lian Li ships the chassis with a detailed photo installation guide and more screws than you could ever use. Other extras include a small screw container, mounting bracket for SSI CEB/EEB motherboard, PCI card holders, a PCI bracket, a USB 3.0 to USB 2.0 converter, multiple rubber grommets for HDD installations, zip ties, a clamp for cable management and a 3.5" to 2.5" x 2 drive bay converter.
Hardware Installation Impressions
The following hardware was installed in the Lian Li PC-V2120 for testing purposes:
* Intel Core i5 661 processor
* EVGA H55 motherboard
* Zalman CNPS8000A heatsink fan
* Crucial Ballistix Tracer DDR3 2x 2GB
* Western Digital
SiliconEdge Blue 64GB SSD
* StarTech USB 3.0 PCIe adapter
* Seasonic SS-460 X-Series Fanless 460W PSU
* DVD burner
The fully tool-less design, lightweight aluminum construction and removable motherboard tray make the PC-V2120 a breeze to work with. The motherboard can be installed in a matter of minutes and slid right back into the chassis. The access port on the back of the motherboard tray did not line up fully with the backplate on my board. This means that I would need to remove the board in order to change heatsinks / backplates. I've actually seen very few access panels line up properly with most boards — perhaps they should be larger.
Since this is an H55 board, I will be using the integrated Intel HD graphics on the CPU. This unfortunately means I won't be able to test out the VGA card pillar.
I opted to install the SSD above the power supply on the horizontal divider. To place a drive here, you need to use four spaced thumbscrews and four rubber grommet. Slide a grommet over the screw, then put the thumbscrew into the bottom of the drive. With all four screws installed, place the SSD over the mounting holes then slide it towards the motherboard to secure it in place. This method worked great and helped eliminate cable clutter.
Furthermore, since I am only using a single SSD, I opted to remove all of the extra hard drive cages and the extra cooling fans. These are all easily removable as they use a combination of thumbscrews and a few Phillips head screws. This left the two front 140mm intake fans unrestricted and should result in better overall system cooling.
Cable management inside the PC-V2120 was so-so. I do wish Lian Li included a few more access ports on the motherboard tray to help with cable routing, similar to what Corsair did on their Obsidian chassis.
After removing the extra storage bays and fans, I was left with two front 140mm fans, one 120mm exhaust fan and the CPU cooler fan. I opted to wire these up to the built-in fan controller in the front of the case.
The fan controller sits above the top 5.25" drive bay and can be a bit difficult to access. I found it best to remove the top drive bay cover, undo the two screws on the front of the controller and pull it out from the drive bay opening.
The module can control up to four fans on the single adjustable dial, perfect for this installation. The problem I ran into, however, is that none of the fan cables were long enough to reach the fan controller. Even the front intake fans wouldn't reach. Lian Li should include enough 3-pin extension cables to actually make the controller useful. Fortunately, I had some spare extension cables on hand and was able to get everything wired up properly.
In order to use the front I/O panel USB 3.0 ports, you need to run the extension cables from the front of the chassis to the rear and plug them into the USB 3.0 ports on your motherboard. For this install, I plugged them into the StarTech PCIe expansion card. Lian Li includes a PCI bracket cover for this precise task. Two cables fit into the bracket and make the installation much cleaner than simply running the cables through an open slot.
Overall, the installation went smoothly. The majority of edges inside the case are rolled or smoothed so you don't cut yourself, but there are still some sharp edges. Use caution when working with the drive cages especially, as most all of the edges on them are pretty sharp. I didn't manage to draw blood, but I did slice into my skin on one occasion.
Article Index
Lian Li PC-V2120 External Design
Lian Li PC-V2120 Internal Design
Final Thoughts
Republished with express permission of TechSpot.Com.
Shawn Knight is a feature writer at TechSpot; he also publishes his own blog OCIA. TechSpot is a computer technology publication serving PC enthusiasts, gamers and IT pros since 1998.