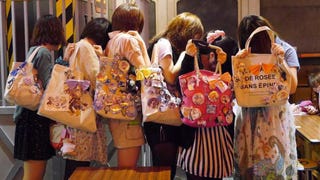 In Japanese, they're called "ita-bag" (痛バッグ) or, rather, "painful bag." And for the country's female geeks, they're one surefire way to express their fandom.
For years now, geeky car owners have shown their love for anime, manga, and video games with " itasha" (painmobiles). It's been said that "ita" refers to the pain inflicted on the cars as well as the owner's wallet.
[Photo: 2ch]
Likewise, these badges and buttons inflict a certain amount of pain on the bag and their owner's wallet, with some geeky young women spending a large amount of cash to decorate their bags with characters from Yowamushi Pedal, Uta no Prince-sama, or any other anime or video games popular with female fans like The Basketball Which Kuroko Plays.
[Photo: maaayan]
The trend isn't brand-new (it started a while back), and it's even been portrayed in the anime Shonen Hollywood. However, late last year, it started getting national news coverage in Japan.
[Photo: fhhopa]
[Photo: sukebee66]
This woman says that ita-bag are a way for you to show just how much you love a particular character.
[Photo: ArseyThorndick]
[Photo: rizufull_poi]
Many of the buttons are limited edition and only on sale at special events. So some fans, like the one interviewed here, pay a premium for them, making it expensive to decorate these bags.
[Photo: sukebee66]
The woman says she's spent about 80,000 yen—or US$668—on bag decoration.
This week a thread popped up on 2ch, Japan's biggest web forum, showing pics of the trend, which somewhat resembles the male geeks called Love Livers who cover their bags with Love Live merch.
[Photo: 2ch]
Below, you can see some more ita-bags from Twitter:
[Photo: mmmaaaoook]
[Photo: xxxykbt_1937]
[Photo: k_n_8taiga2]
[Photo: sgt_gh]
[Photo: bunyan_8]
[Photo: mikotohawkeye]
[Photo: 1O4TVX]
[Photo: m10_30]
Top photo: shio05
Kotaku East is your slice of Asian internet culture, bringing you the latest talking points from Japan, Korea, China and beyond. Tune in every morning from 4am to 8am.
To contact the author of this post, write to bashcraftATkotaku.com or find him on Twitter @Brian_Ashcraft.