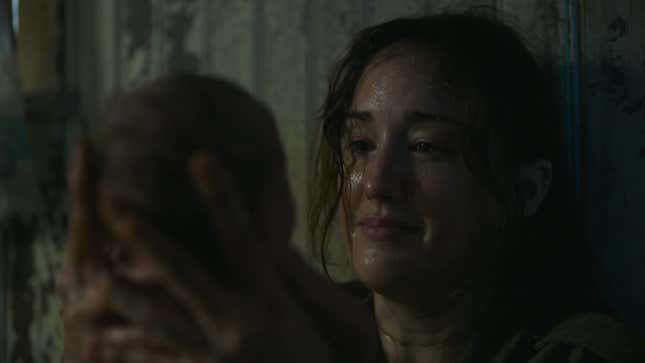 Perhaps one of the most faithful and successful video game adaptations of all time, HBO's TV treatment of The Last of Us has had a number of wonderful nods to the game, including various easter eggs, and cameos. One of the most profound, however, was a flashback scene in the final episode, showing Ellie's birth and possible source of immunity, along with her mother, Anna. And she was portrayed by none other than Ellie's voice actress in the games, Ashley Johnson. What you may not know, however, is that Johnson kept an out-of-frame prop from the original game in her pocket, using it as a reminder of the characters' histories.
Bayonetta 3's Family-Friendly Naive Angel Mode Would Work Better In Other, Grosser Games
Watch: The Last of Us' Merle Dandridge On How She's Like Marlene
The Last of Us, in both video game and TV form, shows the struggle of humanity after an irreversible outbreak nearly eliminates all of human civilization. The story of the first game and first season focuses on the journey of Ellie who, by some chance of fate, is immune to the infection that destroyed the world. Ellie's origin, however, is only documented up to a certain point, mostly chronicling her youth spent with childhood friend Riley via DLC and a tie-in comic. Knowledge of who her parents were, however, has mostly remained outside of the scope of the games. Besides one in-game easter egg in Naughty Dog's Uncharted 4, and the understanding that at least one other character knew her mother, there hasn't been much shown or known of her parents. Up until the first season's finale, all that we had ever seen of Ellie's mom in-world had been a note Ellie kept in her backpack, readable in chapter nine of the first game when the player takes control of Ellie. A recent interview with Ellie's in-game voice actor, however, reveals that this very note was recreated and kept out of frame, helping Johnson get into character for the portrayal of Anna.
Ashley Johnson: 'I wrote that letter out and just kept it in my pocket'
Speaking with Deadline about her performance as Ellie in the games and her appearance as Anna in the season finale of the TV adaptation, Johnson revealed that she had recreated the in-game prop chronicling Anna's final words to Ellie. Johnson shared that it was a part of her process in bringing Anna to life:
In the game, there's a letter that Anna writes that Ellie keeps in her backpack. And I wrote that letter out and just kept it in my pocket as kind of a reminder to myself of where this character came from and the sort of history of that. But most of it was like, you know what? I'm going to bring my version of what I did with Ellie [in the game] and also little bits of Bella [Ramsey].
The letter itself speaks to Anna's immediate love for her daughter, "You're not even a day old," it says "and holding you is the most incredible thing I've done in my life—a life that is about to get cut a little short."
The in-game letter concludes with a message to Ellie that resonates with much of what Joel would go on to tell her about surviving and persisting through a fallen world: "I'm not going to lie, this is a pretty messed up world. It won't be easy. The thing you always have to remember is that, life is worth living. Find your purpose and fight for it."
While I for one would've loved to see more in-game props recreated for the show, it's hard to deny that this is clearly one of the best and most impactful recreations—and yet it wasn't even on screen.