Summertime is here, and it's time to hit the beach, splash in the waves, and bask in the sun with a little ultra-portable gaming, courtesy of Kotaku's 2009 Summer Reading List.
The Week In Games: What's Coming Out Beyond Assassin's Creed Mirage
While video game publishers aren't quite as afraid to release new titles during the summer months as they used to be, there is still a dry period between the last games of spring and the beginning of the fall holiday season. Just because there aren't quite as many games to play doesn't mean you can't still immerse yourself in your favorite titles. We've compiled a list of quality reading materials to keep you steeped in game culture throughout the hot days of summer and beyond.
Fiction
What makes a great work of video game fiction? Strong writing helps, but it's the more supportive nature of gaming fiction that makes a title stand out. The author must not only tell a compelling tale, but tell it in such a way that, when the reader returns to the game, they find the nature of their relationship to the title has changed. Whether it enhances familiarity with one of the title's characters, or deepens our understanding of the game world, video game fiction excels when it changes the way we experience what we play.
Here is a list of some titles that excel at adding depth to the games they are inspired by, as well as a few that have inspired games on their own.
The Divine Comedy
Author: Dante Alighieri
Publisher: Various
First Publication: 1300's

Thanks to Electronic Arts there is a 14,000 line poem on Kotaku's Summer Reading List. If you are going to play and hopefully enjoy the loose video game adaptation of Dante's Inferno, you may as well familiarize yourself with the source material. It may be a dense, allegorical vision of the Christian life and afterlife, but it's also considered to be one of the greatest works of world literature, and being able to discuss such things really impresses the opposite sex at fancy dinner parties.
Dragon Age: The Stolen Throne
Author: David Gaider
Publisher: Doherty, Tom Associates, LLC
Pub. Date: March 2009

Who better to pen a prequel novel to an upcoming role-playing game than the lead writer for the game itself? David Gaider of BioWare has lent his writing talents to such classic games as Baldur's Gate 2: Shadows of Amn and Star Wars: Knights of the Old Republic, and his work translates quite well onto the printed page, as evidenced by his first novel, Dragon Age: The Stolen Throne. The book tells the story of a Maric, the son of the Rebel Queen, seeking to reclaim the throne of Ferelden following his mother's murder. The story is compelling and entertaining, setting the tone for the upcoming game quite nicely.

I really appreciate it when the lore comes before the game, letting the player step into the action feeling as if they have a deeper understanding of the world they are about to experience.
Ender's Game
Author: Orson Scott Card
Publisher: Various
First Publication: 1985

What's a science fiction novel from 1985 doing on Kotaku's Summer Reading list? Aside from the fact that Chair Entertainment is working on a downloadable title based on the novel, Ender's Game is one of the ultimate video game-themed novels of all time. The story centers on Ender Wiggins, a young boy who is part of a class of students at Earth's Battle School, where they train gifted children to take command positions in humanity's war against the alien Formics. The children are trained using simulators - high tech video games that place them in the midst of virtual battles, commanding fleets in what could be the ultimate real-time strategy game. Woven into the science fiction plot is a poignant coming-of-age tale, making Ender's Game a book that delivers on multiple levels. If you've not read it you should, and if you have read it, shush.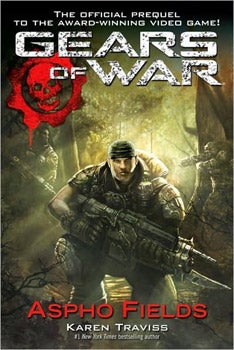 Gears Of War: Aspho Fields
Author: Karen Traviss
Publisher: Random House Publishing Group
Pub. Date: October 2008

Author Karen Traviss was at her best when she wrote the Star Wars: Republic Commando novels, and now she takes that same understanding of both combat and camaraderie and applies it to the Gears of War universe, telling the story of Marcus Fenix and Dominic Santiago in a way that the games never could. Her book takes them from childhood to the battle of Aspho Fields, where they must face a dark secret about Dominic's brother Carlos. Traviss seems to understand the bonding of brothers in battle better than most male writers who tackle the same sort of subject matter, making for an entertaining read no matter how you feel about the series itself. Traviss revisits Gears in late July, picking up where the second game left off with Gears of War: Jacinto's Remnant.
Halo: Contact Harvest
Author: Joseph Staten
Publisher: Doherty, Tom Associates, LLC
Pub. Date: October 2007

Wait, isn't the latest Halo novel The Cole Protocol? Yes it was, and that's why I am recommending Halo: Contact Harvest. If you want a novel that tells a compelling story set during the early days of the war between humanity and the Covenant, you'd be better off avoiding Tobias S. Buckell's The Cole Protocol and reading or re-reading Contact Harvest. As Staten did with Sergeant Johnson in Contact Harvest, Buckell tries to develop Captain Jacob Keyes in The Cole Protocol. Wile he succeeds in telling a multi-layered story with well-developed characters, they aren't likable characters that you'd want to know the story behind. On top of that, I'm not even that hardcore a Halo fan and I noted several inconsistencies between the game and the book. In Contact Harvest, Bungie writer Joseph Staten takes a character that isn't more than a caricature in the game and develops him in a way that changes how you'll view his appearances in the Halo series.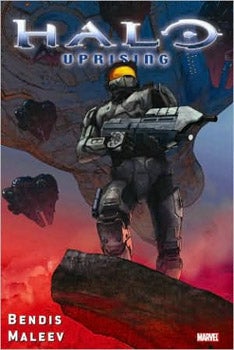 Halo: Uprising
Author: Brian Michael Bendis Artist: Alex Maleev
Publisher: Marvel Enterprises, Inc.
Pub. Date: June 2009

While I hate to use the phrase "must-have", this hardcover collection of the four issues of Marvel's Halo: Uprising comic book series is indeed just that, bridging the gap between Halo 2 and Halo 3 with a compelling story and some fantastic artwork.
Hellgate: London Trilogy - Exodus / Goetia / Covenant
Author: Mel Odom
Publisher: Simon & Schuster Adult Publishing Group
Pub. Date: June 2007 - August 2008

Simon Cross never believed in demons. Despite the fact that his father raised him in a hidden underground commune belonging to the Templar, an organization training in secrecy to defend mankind against a prophesied invasion from the infernal, Simon lacked the faith of his fellows. He left the commune in hopes of finding a normal life. But when the gates of hell do open, Cross finds himself drawn back to London to lead a desperate battle to save humanity. Mel Odom treats Hellgate so much better than the game deserves to be treated. If the game contained just a small portion of the personality Odom gives his characters it would still be operational in North America today. The third book is a bit of a letdown, feeling rushed, possibly due to the game's impending failure, but getting there is one hell of a ride. Forget the bad game. This is a series of good books.
Mass Effect: Revelation / Ascension
Author: Drew Karpyshyn
Publisher: Random House Publishing Group
Pub. Date: May 2007, July 2008

The Mass Effect novels, Crecente's contribution to the Kotaku Summer Reading List, are more prequel than companion. They add to the already-rich lore of the Mass Effect universe. With BioWare's own resident novelist and lead writer for Mass Effect Drew Karpyshyn penning the stories, you can expect a level of detail that no outside author could hope to deliver.
Metal Gear Solid
Author: Raymond Benson
Publisher: Random House Publishing Group
Pub. Date: May 2008

Given that the author has written James Bond novels, one has to overlook Raymond Benson's Bondification of Solid Snake in this adaptation of the first Metal Gear Solid game. The book follows the plot of the game closely, adding little details that should please fans of the series. It fleshes out some of the character's motivations quite nicely. The only issue is the characterization of Snake himself...which one has to admit wasn't all that deep in the game. Benson takes a few liberties with the character, giving him Bond-like quips that don't quite jibe with Snake as we know him today. Still a good read, and with Benson busy penning the novelization of the game's follow-up, Sons of Liberty, we might as well get used to his writing style.
Nova: StarCraft Ghost
Author: Keith R.A. DeCandido with an introduction by Chris Metzen
Publisher: Simon & Schuster Adult Publishing Group
Pub. Date: November 2006

The tragic and often heart-wrenching story of Nova, Emperor Arcturus Mengst's most deadly Ghost operative. When her parents are murdered by a rebel militia, young Nova lashes out with her devastating powers, killing hundreds in the blink of an eye. She finds herself alone in the streets of Tarsonis, pursued by a special agent tasked with hunting her down. Definitely a book that deserves to be read. DeCandido's portrayal of Nova's plight touches all the right chords, and the tragedy of the situation is made all the more poignant by the fact that this is a novel based on a game we may never see.
Prince of Persia: The Graphic Novel
Author: A.B. Sina with Art by LeUyen Pham and Alex Puviland
Publisher: First Second
Pub. Date: September 2008

The Prince of Persia isn't a person, but rather an ideal or spirit that certain Persian princes embody. This is the theme that poet A.B. Sina presents in this lovely graphic novel inspired by the video game series. The book follows the story of two princes, separated by time but entwined by fate, with Sina's words texturing the canvas on which artists Pham and Puviland practice their craft. A bit hard to follow at first, once the separate story threads are braided together the tale truly takes off. As an added bonus, Prince of Persia creator Jordan Mechner provides a brief history of the game series in the volume, neatly counterbalancing the more artistic take on the legend.
Resident Evil: The Umbrella Conspiracy
Author: S.D. Perry
Publisher: Simon & Schuster Adult Publishing Group
Pub. Date: October 1998

This one goes way back, but when I asked for staff recommendations for the list, Resident Evil: The Umbrella Conspiracy was the first thing out of AJ's mouth, and so here it is. She claims the first book is the best in the series, with the quality slowly dwindling thereafter. That's a bit odd, because I remember reading an Aliens series by S.D. Perry that followed that exact same pattern - a strong start followed by diminishing returns.
StarCraft: Dark Templar Series - Firstborn / Shadow Hunters / Twilight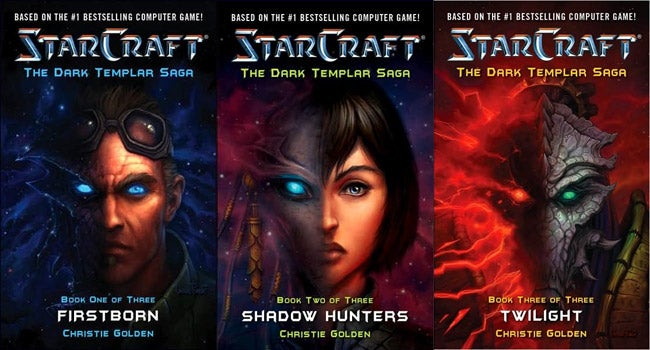 Author: Christie Golden
Publisher: Simon & Schuster Adult Publishing Group
Pub. Date: May 2007 - June 2009

Archaeologist Jake Ramsey, hired to explore an unearthed Xel'Naga temple, finds himself bonded to the spirit of a long-dead Protoss mystic. Driven by the mystic's memories, Jake sets off on a journey that spans the universe. The three book series sees its protagonist pursued by the Zerg, hounded by a powerful Dark Aarchon, and taking a good, hard look at humanity's role in the universe. Author Christie Golden has penned a large number of licensed novels in her time, and there's a good reason she is constantly tapped for said duty. While other adaptation authors simply familiarize themselves with their subject matter, Golden seems to fall in love with each universe she visits, and that love shines through on every page.
Star Wars: The Force Unleashed
Author: Sean Williams
Publisher: Random House Publishing Group
Pub. Date: August 2008

Sean Williams takes the already-compelling tale of Darth Vader's secret apprentice and fleshes it out in vibrant detail, creating an excellent companion piece to the video game. It's a great example of a novelization that adds a layer of depth to the source material.
Warhammer Online: Age Of Reckoning: Empire In Chaos
Author: Anthony Reynolds
Publisher: Games Workshop
Pub. Date: August 2008

The battle between the Empire and the forces of Chaos escalates in this solid companion to the massively multiplayer online roleplaying game. It's basically a classic fantasy tale - a band of characters from different backgrounds find themselves thrust together against a backdrop of war. You've got your innocent maiden who finds herself in possession of tremendous power; your tough-as-nails anti-hero; an enigmatic elf struggling to overcome the language barrier; and a dwarf who takes the grumpy dwarf routine to a new level. A bit formulaic, but a solid read.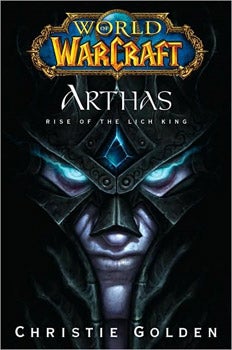 World of Warcraft: Arthas: Rise of the Lich King
Author: Christie Golden
Publisher: Simon & Schuster Adult Publishing Group
Pub. Date: April 2009

Yes, it's another Blizzard book by Christie Golden, but as I mentioned previously, there is a reason she is tapped to pen some of the most important stories in video game fiction. The story of Arthas' transformation from paladin of the Silver Hand to evil lord of the undead is one of the most classically tragic tales in Azeroth. Golden handles the details with an expert pen, building up Arthas Menethil's world and then slowly tearing it apart.
Non-Fiction
While some of prefer their video game reading to tend to the fantastic, others prefer to take time during the summer months to brush up on their facts, get a little bit of back story, or wax philosophical on their favorite titles in preparation for the busy fall forum flaming season. Here's a handful of more-grounded gaming reads.
Arcade Mania: The Turbo-charged World of Japan's Game Centers
Author: Brian Ashcraft
Publisher: Kodansha International
Pub. Date: January 2009

Didn't think I'd miss this one, did you? Written by our own Brian Ashcraft, Arcade Mania takes us deep inside the arcades of Japan, exploring not only the games themselves, but the colorful people who play them, presenting both history and culture in equal servings. I enjoyed the quirky page layouts almost as much as I enjoyed the actual words, and while I would have preferred a bit more lead in and lead out, all in all it's one heck of a good read.
Guinness World Records Gamers' Edition 2009
Compiled by Guinness World Records
Publisher: Guinness World Records Limited
Pub. Date: February 2009

Because we have to use the bathroom in the summer as well.
Grand Theft Childhood: The Surprising Truth About Violent Video Games - And What Parents Can Do
Authors: Lawrence Kutner, Cheryl K. Olson
Publisher: Simon & Schuster Adult Publishing Group
Pub. Date: April 2008
You've probably seen quotes from the husband-and-wife writing team and references to this book on Kotaku before, and you'll more than likely see them again. The pair studied some of the habits and behaviors of some 1,300 middle-school gamers in Pennsylvania and South Carolina, and their findings are some of the most balanced ones I've seen. Many violent video game studies feel like they have an agenda, be it to condemn video games or exonerate them. Grand Theft Childhood moves the focus away from that debate and directs parents' attention where it should be anyway - their own children.
High Score!: The Illustrated History of Electronic Games, Second Edition
Authors: Rusel DeMaria, Johnny L. Wilson
Publisher: McGraw-Hill Osborne Media
Pub. Date: 2nd Edition, December 2003

This one was Ashcraft's suggestion, but I couldn't agree more that High Score! deserves a place on any video game reader's list. DeMaria and Wilson take on the history of the video game industry, from its humble beginnings as dots moving on a screen to the coming of the PlayStation 2 and original Xbox. They break things down by company, era, and geographical region, making it the perfect book to just open up to any random page and begin reading, or as Ashcraft puts it, "Great to pick up and put down whenever you are on the throne."
The Legend of Zelda and Philosophy
Editor: Luke Cuddy
Publisher: Open Court Publishing Company
Pub. Date: November 2008

If you think far too much about the Legend of Zelda series, then here is a book for you. The Legend of Zelda and Philosophy is a series of essays that explores topics both confined to the game, as in Rachel Robison's "Shape Shifting and Time Traveling: Link's Identity Issues", to more all-encompassing philosophical fare, which we see in Paul Brown's "Hyrule's Green and Pleasant Land: The Minish Cap as Utopian Ideal". It's equal bits absurd and insightful.
This first edition of the Kotaku Summer Reading List presents a rather broad range of titles, from fantasy and science fiction to philosophy and scientific study. Hopefully you'll find something worth a sunny afternoon read somewhere amongst the selection. Of course, this certainly isn't the end of this list. You are all part of Kotaku as well, so now that we've shared some of our favorites, it's your turn to share some of your own. After all, the only thing better than reading a good book is sharing a good book.