Last week we asked our readers to fix The Witcher 3: Wild Hunt's missing penis problem. Our readers responded with the stuff of endless nightmares.
The only rule was no actual genitalia, which only encouraged them. When you scroll through this week's runners-up, you will see things you can never erase from your brain. You have been warned.
Luckily for everyone involved, this week's winner (who also happens to be last week's winner, go figure) kept things relatively PG-13. Sure, Geralt's dick is in that box and yes, Princess Peach seems very excited about what might happen should she hit that box, but if you don't think about it Cartoonivore's creation is just another adorable Nintendo game. Maybe they'll announce this at E3.
Now here comes the nightmares.
This Week's Almost Winning Dick Substitutes
G/O Media may get a commission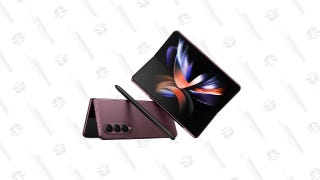 Save Up to $300
Galaxy Z Fold4
Brandon0151 — ah, the good old Kotaku pointing/NSFW fish. Pretty good start.
MapleNinja — hahaha, topical! The penis costs extra, like in Second Life!
Also_Ran — Okay, little less fun, but more disturbing. Does it hiss and then explode, ruining your stuff?
billysan — oh, hi there.
usga_pa — AARRGHHHHHHHH!
Kopoop — nice mash-up, but also a horrible, horrible mash-up.
Goufunaki — (just stares, mouth open in horror)
Necronaut — awww, kitty.
UI 2.0 — It's retractable, and wireless!
Mrichston — all we want is life beyond, the Witchermound.
-Silver- — my head hurts.
AngryRider — OUR STAR BLAZERS!
Ginger Snap — Nothing to see here, move along.
Kcity — because this really disturbs me.
Alecander — he's a dirty, dirty liar.
Sqarr — the comparison we had to make.
sciteach — someone make sure his students see this.
Fluidice — for my favorite movie line ever.
Z-Fox08 — for demonstrating what happens when you play with yourself.
Tommaton — she just looks so happy.
MonacleMask — oh, we just needed to turn on HairWorks.
Guebitus — what in God's name is happening here?
Fbs — how did only one of you do this?
Mrichston Again — Sweet Christ.
And of course...
Cartoonivore — for the win, and not just because it was one of the few I felt comfortable bigpiccing on the front page. But some of that.
Join us later today for....something, possibly.