This year saw some of the greatest reader-created images in the history of the Kotaku 'Shop Contest. Now it's time to bring it all home. It's a year-end mash-up, y'all. I'll get the butter.
Here's how this works. I'm going to give you folks five of the finest 'Shop Contest subjects of the year, and you've got to combine them together into one beautiful image. Many of you have been doing this all year anyway—those don't count. I am drunk with power.
Here are this year's five topics, in order of when I pasted them in here.
Your task, as it was last year, it to combine as many as you'd like. Work in all five, or just do one mashed together with any one of the 'Shop Contest subjects from this year. As long as two or more 'Shop Contest subjects are combined and one of them is one of the five I've listed, you're good.
Make sure your images are at least 800 pixels wide, or I will set everything on fire.
We'll be posting the winners this coming weekend, so be sure to get your entries in before I get around to judging them, or what's the point?
How To Upload Images — Instructions

1. Create your 'Shop and save it to your desktop. Images must be at least 800 pixels wide. If they aren't, you will be playfully spanked.

2. Go to the bottom of this post

3. This brings up a comment window. Click

4. This brings up Click "Choose file" if you're uploading your 'shop from your desktop

5. Alternatively, you can upload the 'Shop to a free image hosting service. I suggest imgur. Then paste the image's URL into the field that says "Image URL." Note: this must be the URL of the image itself, not the page where it is displayed. That means the URL ends in .jpg, .gif, .png, whatever.

6. Add editorial commentary and hit submit and your image will load. If it doesn't, upload the image to imgur and paste the image URL as a comment. I promise I will look at it.
G/O Media may get a commission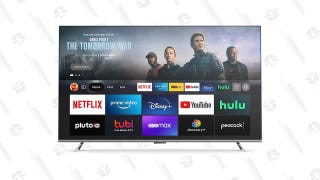 Save 46%
Fire TV 55" Omni Series 4K UHD Smart TV
Contact the author of at fahey@kotaku.com or find him on Twitter @bunnyspatial.