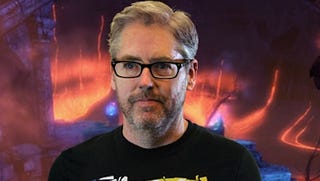 David Brevik, one of the original creators of Diablo and the current CEO of Gazillion Entertainment (Marvel Heroes), is here to answer your questions today.
Brevik, who co-founded Blizzard North back in 1993 (when it was called Condor), served as a core member of the team that would go on to release Diablo and its sequel, Diablo II. Today he works on Marvel Heroes, a game that Kotaku's Mike Fahey describes as a free-to-play "Marvel Diablo."
Brevik will be here answering your questions starting at 2pm ET. Ask whatever you'd like.
UPDATE: And we're done. Thanks to David Brevik for taking the time to chat with us today.
This is Kotaku Asks, a weekly feature where we invite guests from the world of gaming to come answer burning questions from Kotaku readers. (If you think you'd be a good guest or have any requests for future guests, let us know.)