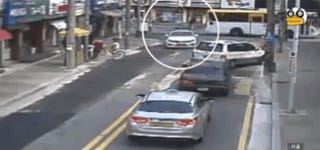 The above footage is not from a movie or a TV drama. It's real. And thankfully, no one was seriously hurt.
Earlier this week in Seoul, South Korea, a water pipeline exploded, flipping a taxi into the air. NHK reports that the 56 year-old driver behind the wheel was not seriously injured. Below, you can see footage from the incident from closed-circuit cameras.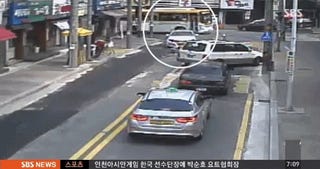 Note how the kid on the bicycle pedals away just in time.
Apparently, the explosion happened due to a change in air pressure caused by construction. SBS (via tipster Sang) reports that the pipe was recently replaced. However, the construction crew forgot to depressurize the pipe, causing compressed air to build up and the pipe to explode.
[Photo: JONGMIN5]
According to Asiae, the explosion left a crater two meters deep in the street.
안양 상수도관 폭발에 택시 전복, 2미터 깊이 큰 '구멍' 생겼다 [아시아경제]
상수도관 폭발 '땅 솟구치며 충격으로 택시 뒤집혀' 어떻게 이런 일이? [SBS Thanks, Sang!]
To contact the author of this post, write to bashcraftATkotaku.com or find him on Twitter @Brian_Ashcraft.
Kotaku East is your slice of Asian internet culture, bringing you the latest talking points from Japan, Korea, China and beyond. Tune in every morning from 4am to 8am.