Towards the end of Konami's Games Convention 2008 press conference this morning, while certain members of the press were slowly inching towards the door, Head of Product Planning for Konami Digital Entertainment Dave Cox to the stage to present a brand new 3D action title for the Xbox 360 and PlayStation 3, Lords of Shadow. The press release describes it as as a dark fairy tale, an epic battle between good and evil, and a stunning new action-adventure IP. You play as Gabriel, a mysterious protagonist on a journey to discover the true meaning of Christmas> self-sacrifice. Sounds like fun, in a vague sort of way. The trailer itself featured the main character, seen above, looking all tense and powerful, and some giant critter showing up. This is the way of early trailers. As we excited the press conference we were given a little bundle filled with cards featuring art from the game, which I will post in a gallery below for your enjoyment. Lords of Shadow is due out in 2010.
G/O Media may get a commission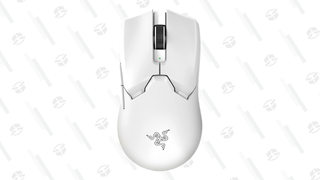 15% Off
Razer Viper V2 HyperSpeed Wireless Gaming Mouse
Pro gaming
ses a focus pro 30k optical sensor for unreal accuracy, is only 59g which puts little-to-no pressure on your wrists and allows for faster response times and longer sessions, has switches that last for 90 million clicks, has an absurdly fast wireless connection, and a battery life of up to 80 hours.
The darkness descends… Lords of Shadow arise Konami unveils details of incredible new 3D action-adventure title from European Product Planning department Konami Digital Entertainment GmbH has used Europe's leading video game event, the annual Games Convention in Leipzig, to unveil a landmark new title for PLAYSTATION®3 and Xbox 360 from its European Product Planning department entitled Lords of Shadow, which is due for release in 2010. Developed by Madrid-based Mercury Steam, Lords of Shadow is a stunning new action-adventure IP, boasting an incredible level of visual detail and far-ranging gameplay. Set in Southern Europe during the middle ages, Lords of Shadow has beautifully-realised locales that play host to an epic battle between good and evil. This is a story of one man's journey to discover the true meaning of sacrifice amidst murder and betrayal. Best described as a dark fairy tale, Lords of Shadow casts the player as the mysterious Gabriel. At its heart it is a vast third-person-viewed adventure, but combat and puzzle solving also play a major part in the main quest, while dark artifacts can be used to enhance Gabriel's powers. Lords of Shadow also utilises a unique multi-functional weapon system called the Combat Cross™, wherein Gabriel's favored armament can serve a multitude of purposes. For ranged attacks, an extendible chain can cause major carnage but also grip enemies, for melee the Combat Cross™ can be extended into a stabbing weapon, or changed into a heavier night stick style device for defensive capabilities. With a play area that spans forest glades, underground catacombs and snowy wastelands, Lords of Shadow is a key title for Konami. It represents the most ambitious offering from the European Product Planning department to date, with the beautiful visuals married to fine-tuned gameplay that features a wide range of monstrous enemies and huge, screen-filling boss creatures. "Lords of Shadow is a momentous title for us," commented Dave Cox, Executive Producer and Head of Product Planning for Konami Digital Entertainment GmbH. "Every element of the game pushes the host hardware to its limits, with Mercury Steam producing a game that has breath-taking visuals, incredible cinematic qualities, and varied and engrossing gameplay. It is truly an epic game but telling a human and emotive story. This is a title we hope will set a new standard for action-adventure titles." Lords of Shadow will be released for PLAYSTATION®3 and Xbox 360 in 2010.