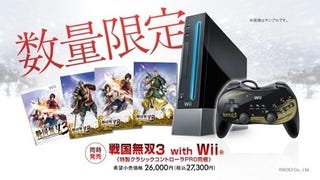 Upcoming Wii title Sengoku Musou 3 will be released on December 3. To mark the occasion, Koei is releasing not one, but three bundles.
The first bundle is priced at ¥27,300 (US$309) and comes with the game, a black Wii, a Classic Controller Pro and three one-sheets (pictured). The second bundle is the game bundles with a Classic Controller — yours for ¥8,715 ($99).
The last is dubbed "Sengoku Musou 3 TREASURE BOX" and priced at ¥11,865 ($134). It comes with the game, a Classic Controller, a special walk through/art book, an original soundtrack CD and a mini-figure.